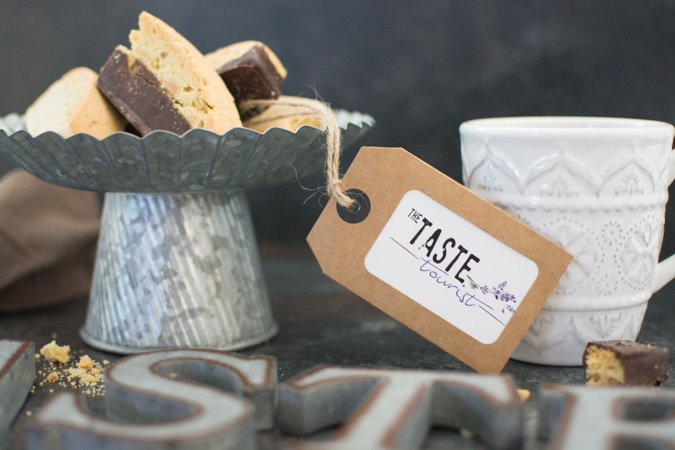 Welcome to 2017 and the launch of The Taste Tourist!
What's in a Name?  
Anyone who's ever gone through the process of selecting a name knows the complexity, and at times the agony, of finding the "perfect" one. As I began the process of naming this new blog, I knew I wanted the name to relate to both food and travel – two of my absolute passions – but in all honesty, it's always about the food.
I kept coming back to the idea of food as so much more than just a source of sustenance or pleasure – to the idea that food takes us places.
To the past…
It's a taste of blackberry pie, and I'm a ten-year-old girl picking berries with my mom under a sun-drenched island sky. It's a whiff of cinnamon, and I'm back in my grandmother's farm kitchen, a welcome hug, freshly-baked treats, and unconditional love always guaranteed. It's the sound of fish and chips hitting the deep-fryer, and I'm a young teacher in England, living overseas for the first time, a little scared but so full of hope and life.
To the present…
It's my family gathered around a decadent homemade chocolate cake, celebrating a birthday – connecting, sharing, and grateful to be together. It's standing over the stove making my first risotto – slowing down and experiencing the moment. It's ducking into a small café in a foreign city – ordering something new off an unfamiliar menu, always growing and learning.
To the future…
It's thumbing through the pages of a travel guide, searching for my next food adventure. It's getting lost in the captivating world of food blogs, lured in by all the recipes I want to try. It's marking the pages of a cookbook, looking forward to "spending time" in another writer's kitchen.
So…in the end, after much deliberation, it was fairly simple. I wanted a name that would reflect my belief that food has the power to take us places – to transport us into the past, to connect us with the present, and to excite us with the promise of future experiences.
Thus, The Taste Tourist was born.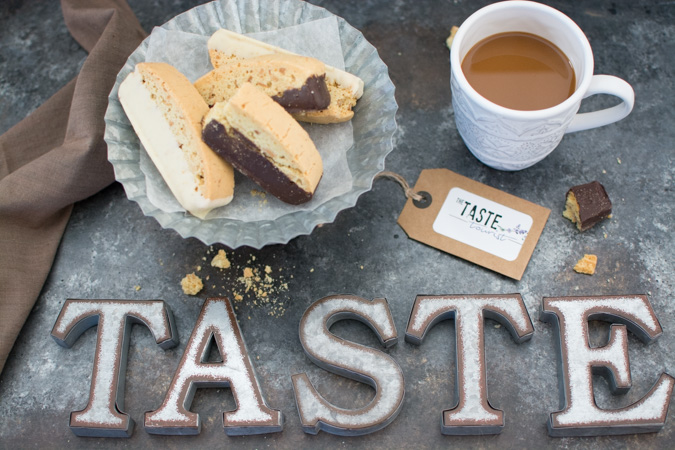 What is The Taste Tourist?
What can you expect from this blog? It's a work in progress – my first blog, my first DSLR camera, etc. – but packed full of passion and commitment.  Here's what's currently on the menu…
Taste Five – Cookbook of the Week
Each week I will be selecting a "cookbook of the week" and trying out five recipes from it.  I'll be introducing the featured selection each Monday, and I'd love for you to cook along with me.
Taste Trips
I will be highlighting new "taste" excursions from my local Seattle area, the Pacific Northwest, and further afield. Cooking classes, restaurants, food festivals, farm visits, and more – I'll be on the hunt for new taste adventures.
Taste Bytes
I will be sharing favorite food and travel links; from "must-try" recipes to culinary tips to exciting products to try, I'll be featuring new finds on a regular basis.
A New Year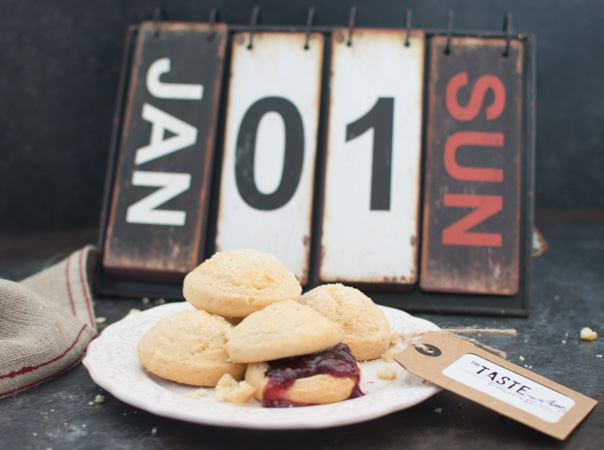 Each new journey begins with the first step – and this is a big one for me. There's an inherent risk in sharing a bit of yourself, whether it be personal or creative. But there's also something so exciting about taking that risk…of opening yourself up, of building new connections and friendships, and of growing and challenging yourself.
Several years ago, I started a tradition of buying a new journal right before the start of each new year. But not just any journal…it had to be the right "fit" – the  colors, the texture, the overall feel. Needless to say, at times it involved several trips to a variety of stores to find the one that would become mine.
But not this year.
This year, I walked into the first store on my list, and there it was. Bright, sparkly, and full of promise…exactly what I was feeling as 2017 neared. It was the inscription  that resonated with me: Dream big, Sparkle more, Shine bright.  The exact message I want to carry into this new year.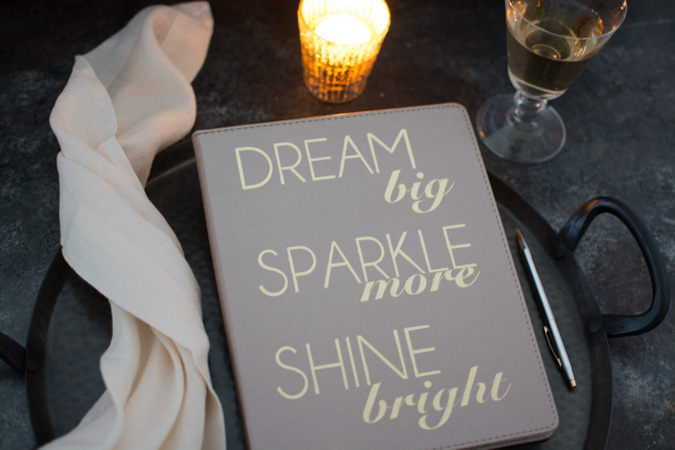 As we move into 2017, I'm reminded of one of my favorite  Julia Child quotes: "Life itself is the proper binge."  There's something powerful about the promise of a new year, and I'm excited about the taste adventures that lie ahead!
Thanks for taking the time to stop by; I hope you'll join me on this journey, and I look forward to connecting with you again.
Happy New Year!
Kimberly