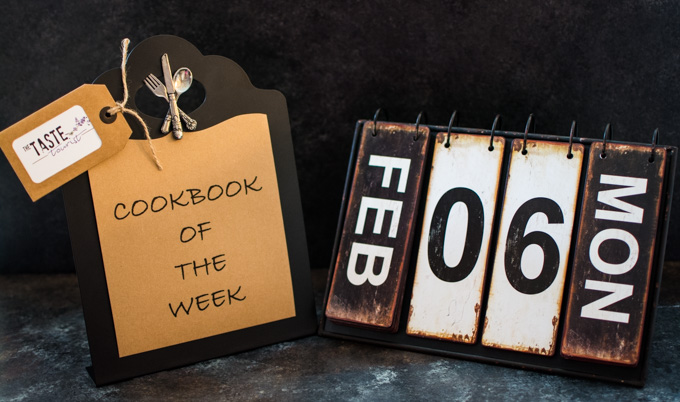 Snow Day
Western Washington woke up Monday morning to a blanket of snow…and I woke up to the call that school was cancelled.
A snow day – it doesn't get much better than that.
We haven't had a lot of snow for the last few years, so this was an unexpected treat – a rare day off to hunker down and stay put.  I had stocked up on cinnamon bread and supplies to make hot chocolate, a "snow day" tradition in my family, in the hopes that the meteorologist's forecast might be right.
It started to snow on Sunday just after the Super Bowl ended, and on the drive home it was coming down hard…big fat flakes pelting the windshield and quickly covering the ground. I was in and out of bed all night, peeking out the window – just like a kid again, hoping that it would stick. And then that call came…no school today.  As much as I love teaching, the thrill of a snow day never gets old.
I turned on the fireplace, snuggled into the couch, and enjoyed a piece of warm cinnamon bread accompanied by a thick mug of hot chocolate, topped with whipped cream, of course.  I spent the morning paging through a cookbook that I had bought over a year ago…a beautiful book, part memoir and part cookbook, with a chapter entitled "Winter" – full of recipes just perfect for a snowy day.
This week's Cookbook of the Week is Ruth Reichl's My Kitchen Year.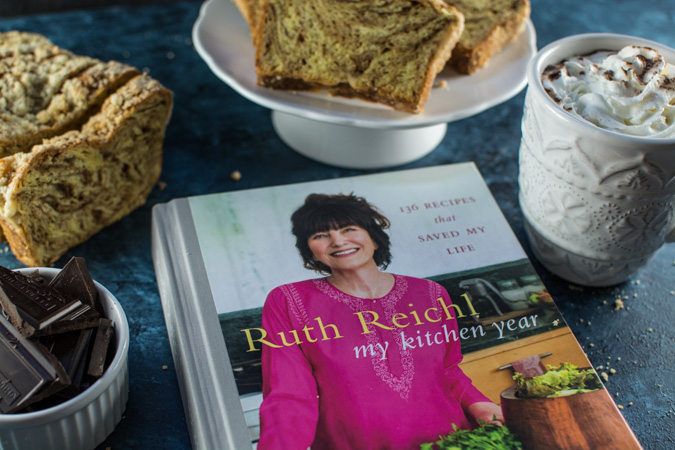 I love cookbooks that tell a story, and this is absolutely one of my favorites. Author Ruth Reichl has had an impressive career in the culinary world, including stints as a food critic, a novelist, and as editor of Gourmet magazine. This cookbook, written shortly after she learned that the magazine was folding, details her year spent "back in the kitchen" following the end of her tenure at Gourmet.
It's a gorgeous book – organized around the four seasons – full of stunning photographs and includes a variety of appealing recipes. Her warm, honest writing draws you in, detailing her life in a year of great change, transporting you to into her kitchen and her world.  As she states, "…I've tried to write these recipes in a relaxed tone, as if we were standing in the kitchen, cooking together."
I especially love Ruth's description of being snowed in at her country home in upstate New York. "The snow started and didn't stop. Icy winds banged against the windows as if they wanted to come inside and warm themselves by the fire. The gales howled, the drifts mounted around the house. Three weather advisories warned us not to leave unless absolutely necessary. Inside, the house was cozy."
And so…she spent the time cooking.
When I first bought this book, it was that chapter on "Winter" that really drew me in, and the one that I spent this snowy Northwest morning pouring through – trying to pick from the myriad of recipes calling to me…butter-toasted apricot oatmeal, avgolemono soup, Sriracha shrimp, gingered applesauce cake glazed with caramel, and so many more.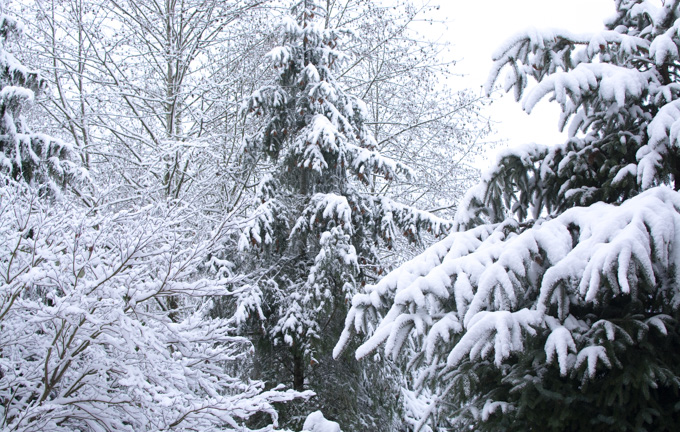 Hitting the Pause Button
I faced some tough decisions last week, and my mind had been on overdrive for days…awash with uncertainty and turmoil.
But as I relaxed on my couch, paging through this week's cookbook, Ruth's words resonated with me. "My kitchen year started in a time of trouble. When I went back to cooking I rediscovered simple pleasures, and as I began to appreciate the world around me, I learned that the secret to life is finding joy in ordinary things."
The unexpected gift of this snow day – plucked into the midst of a busy and tumultuous week – reminded me that every now and then we need to hit the pause button.
I spent the day off letting myself rest, recuperate, and relish the moment.
It was a day of simple, but perfect pleasures…putting on my fuzzy snow boots to get the mail – feeling the snowflakes melt on my face, walking through the woods behind my house – soaking in the beauty of the wintry landscape, standing over the stove – embracing the simple act of preparing a bowl of oatmeal.
As Ruth so aptly writes, "To me, recipes are conversations, not lectures; they are a beginning, not an end."
And sometimes, when you take the time to slow down, to be present, to really "listen," the answers will come.