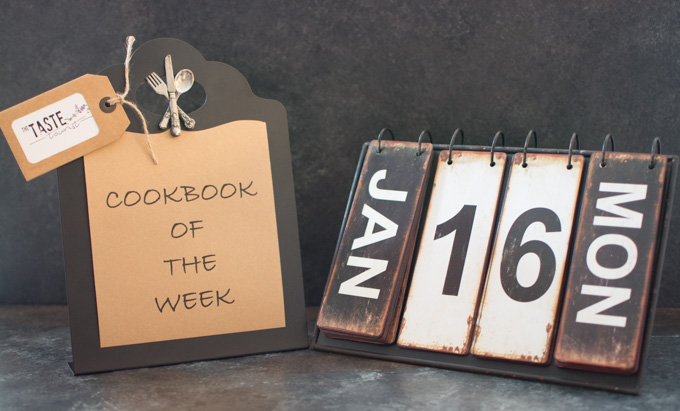 Serendipity
Serendipity – one of my favorite words. I remember when I first looked up its meaning; I was in Venice on a boat transporting me back to the mainland, when I spotted it spray-painted on a lagoon seawall. I had heard the word before, loved the way it looked and sounded, but honestly, I wasn't sure what it meant. Back at my hotel, I went online…serendipity: the act of finding interesting or valuable things by chance.
I had this week's Cookbook of the Week selection and posts all planned out; today I was supposed to be taking a British baking class in Seattle – and I had chosen a cookbook that connected to that experience. But last night I received an email letting me know that the class was cancelled. I went to bed wondering what new cookbook to select…unsure, debating my options, not able to decide on one that felt "just right."
This morning I woke up later than usual, off work for the MLK holiday, indecision still looming. Lazing in bed, stalling, I started thumbing through Instagram. The first post I saw was by Macrina Bakery and Café…a  picture of a white plate filled with cookies labeled Olivia's Chocolate Chip Cookies and tagged simply "comfort food."
I know that recipe, and I know how good it is, because I've made it before…and I have that cookbook.  I love those serendipitous moments…decision made.
This week's Cookbook of the Week is Leslie Mackie's Macrina Bakery and Café Cookbook.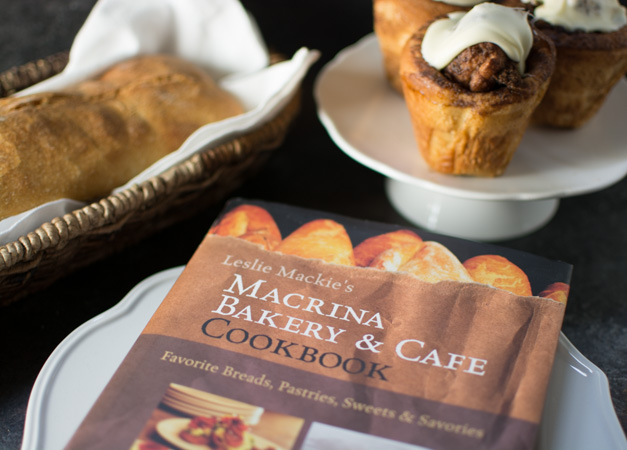 Founded in 1993, Macrina Bakery is a Seattle institution. The originally Belltown location has been joined by three other cafes, and Macrina now sells to various retail markets as well. Fortunately, my favorite local market carries their baked goods, and I am a huge fan. Just within the last week I purchased their sesame brioche buns to top off oven-broiled cheeseburgers, served their Casera bread with curried butternut squash soup, and used their sliced oatmeal buttermilk bread for Sunday morning's soft-boiled eggs with toast.
Macrina's food is top notch, and I'm looking forward to trying several of Leslie's recipes. I currently have Post-It notes sticking out from a multitude of pages in the cookbook…with ginger and molasses cookies, cherry almond scones, brown sugar coffee cake, green salad with balsamic vinegar, and a savory bread pudding with cranberries, sausage and chevre currently at the top of my "must try list."
But really…it's all about the chocolate chip cookies.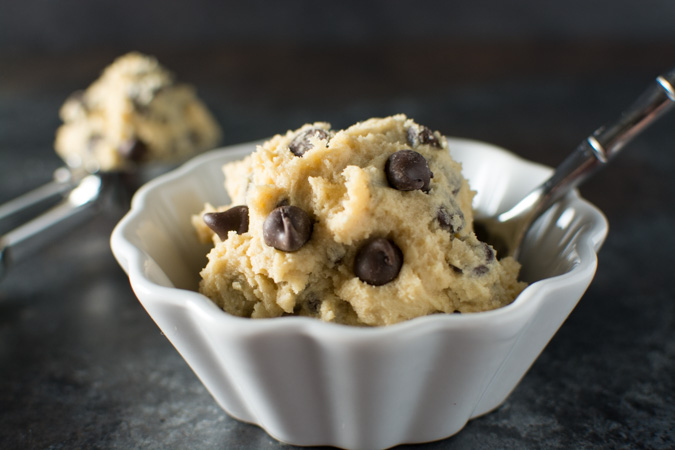 Chocolate Chip Cookies
It's been a while since I've made chocolate chip cookies – too long, I realized today – and they hold a special place in my "taste memories." While I will definitely be making Macrina's cookies later this week, today was actually about a different recipe.
Growing up, I lived in a pretty idyllic neighborhood…plenty of kids my age to play with, wide open spaces to explore, and a group of parents that looked out for all of us. My best friend Darcy lived across the street, and we were in and out of each other's houses constantly. One of my favorite places was in her mom Barbara's kitchen, especially when she was making her specialty…chocolate chip cookies.
As much as I loved Barbara's cookies, not to mention the cookie dough she would pile into little bowls for us, I loved spending time with her even more. She always made time for us, loved hearing about our lives, and truly enjoyed kids.
This morning, a simple picture took me back to those days. I pulled out Barbara's recipe, copied on the back of her memorial service program, and got to work making her cookies.
They're different than many other chocolate chip cookie recipes – a little flatter and a little chewier, but incredibly delicious. As I stirred the dough, always by hand – just like she did, I thought of her. Of the way that she listened, of the way that she made me feel special, and of the gifts that she gave me as a young girl – her unconditional acceptance and belief in me.
Barbara was gone far too soon, just a few short months before my own mom passed away, but she will never be forgotten.
So, today I'm grateful for that simple yet serendipitous picture that was posted this morning. Grateful for the idea that it spurred for this week's cookbook selection, but even more grateful for the impetus that led to spending time this morning with an old recipe. Time spent thinking of a woman who helped shape my formative years and who was a bright light in the time that she was here.
Barbara J – you were special, and you are missed.