Traditions 
I love traditions – personal traditions, family traditions, cultural traditions…there's a comforting security in carrying the past forward.  But as much as I love traditions, I'm also drawn to the new – to change, to variety, to learning and growth.
The Chinese New Year, occurring this week, celebrates both of these – valuing the past and looking forward to the future.
Also known as The Lunar New Year, as it occurs during the second new moon of the winter solstice, it's celebrated not just in China, but in many communities and countries around the world. I've always been intrigued by its unique customs and traditions…the ritual cleaning prior to the New Year, firecrackers, red envelopes filled with money for the children, lion dances, spring couplets decorating doors, drumming competitions, joss sticks burning in the temples, the lucky colors of red and gold, and the Lantern Festival marking its conclusion.
One of the most revered traditions is the New Year's Eve reunion dinner…rich with symbolism and food. It's a time when family members typically travel great distances in order to come together, pay homage to their ancestors, and celebrate with an abundance of food. Many of the dishes served have special symbolic meaning, their names and ingredients conveying shapes or sounds similar to the Chinese wishes for the new year. Good fortune fruit – tangerines, oranges, and pomeloes, noodles – a symbol of longevity, fish – served whole with some left over to ensure abundance, and dumplings at midnight symbolizing good wishes for the year ahead.
Beautiful food. Beautiful traditions.
In honor of the Chinese New Year, this week's Cookbook of the Week is Lucky Peach Presents 101 Easy Asian Recipes.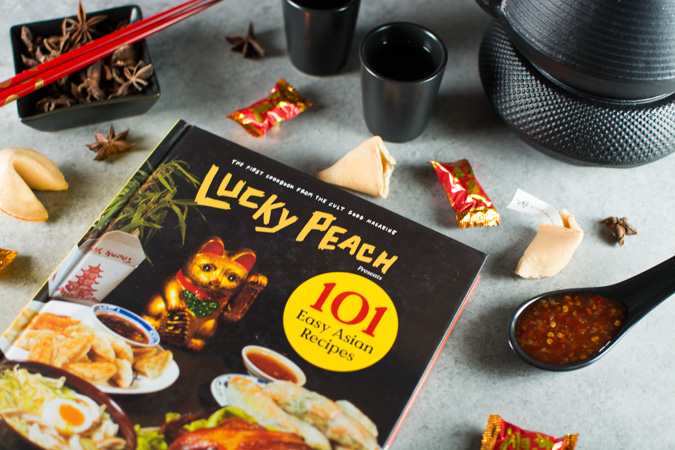 As much as I love Asian food – Chinese, Japanese, Thai, Korean…you name it, the truth is that I haven't cooked a lot of it at home. With lists of seemingly complex ingredients, it was always simpler to just go out to eat when the urge struck.
But this cookbook's title drew me in – 101 Easy Asian Recipes – emphasis on the "Easy." It looked like a great "starter" book for my first foray into Asian cuisine.
In the introduction to this book, author Peter Meehan lays out a plan for setting up a basic Asian pantry…Pantry Level 1: Basic, Pantry Level 2: Intermediate, and Pantry Level 3: Champion. List in hand, I headed to a local mammoth Asian market, my first visit there, to stock up on what were some fairly unfamiliar ingredients.
Last week I wrote about appreciating "the process" – of taking the time to enjoy the act itself, not just the end result. And what an adventure this visit was. Two hours later, after hitting every aisle in the market, I emerged with an impressive list of ingredients…star anise, rice noodles, Chinkiang vinegar,  dried red chilies, sambal oelek, Shaoxing wine, dumpling wrappers, Sichuan peppercorns, and fresh herbs waiting to adorn a bowl of pho.
It's going to be tough to decide on just five recipes to try this week…but I'll do my best. Current top contenders include: hot and sour soup, dollar dumplings with dipping sauce, slow cooker pho, fried rice, and Kung Pao shrimp.
A little traditional, yes, but a new culinary encounter for me.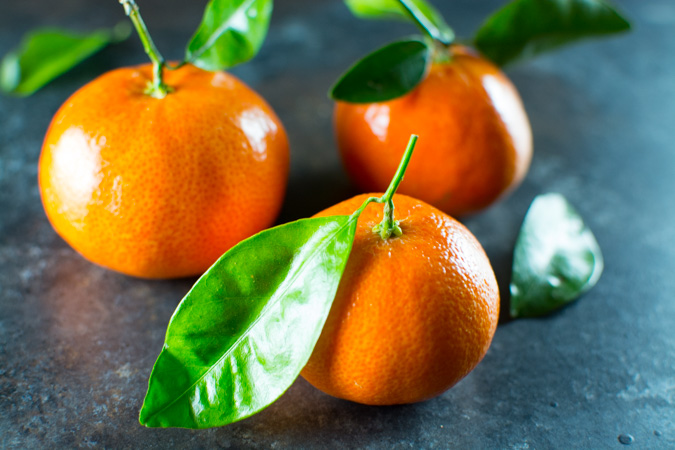 The Year Ahead 
It's tradition during the Chinese New Year to give oranges as a gift, and parents will often place mandarin oranges next to the red envelopes on their children's pillows. Reminiscent of the sun, oranges are a symbol of abundance and good fortune for the year ahead.
Abundance and good fortune – words that are personal and mean something different to each of us. My definition of an abundant life includes one where I'm pushing myself, stretching, reaching outside my comfort zone.
At my work, we have a "weekly wellness challenge," and this week's challenge resonated with me – try something new. It occurred to me, as I was reflecting on this post, that this week's cookbook selection certainly meets that criteria.
Here's to a week of cooking from the diverse cuisines of Asia…of trying something new.
Wishing you abundance and good fortune in the year ahead. -Kimberly