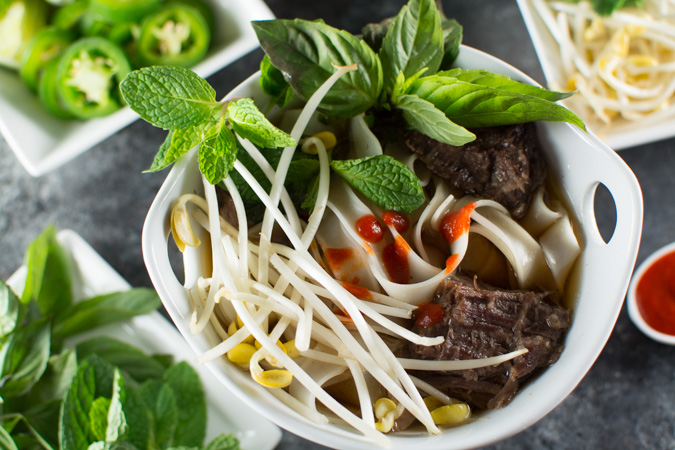 LAYERS 
This week I made my first pho, a dish that I've never contemplated making at home before… one full of diverse ingredients, each of which lends a special note to the final product.
Roasting an onion and ginger until slightly charred. Adding a layer of rich beef broth and short ribs. Infusing the broth with star anise, cinnamon, and cloves. Topping it off with  fresh basil, mint, cilantro, jalapeno, and lime.  Eating the final product and reflecting on the dimensionality of all these layers of flavor.
It occurred to me as I was cooking this week's recipes –  rich with so many complex flavors – that the same is true, not just of recipes, but of people and cultures as well.
It's the layers that make them all so interesting.
Here is this week's Taste Five.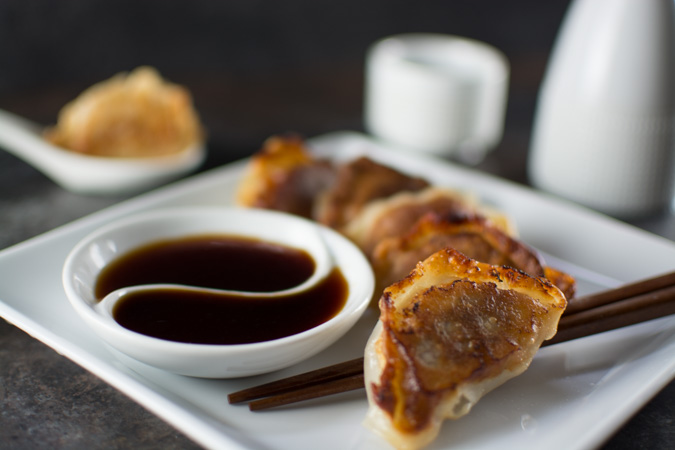 DOLLAR DUMPLINGS WITH DIPPING SAUCE 
True confessions – I initially selected this cookbook because I wanted to try some new techniques and recipes…but the thought of sealing all these small Chinese dumplings, was a bit intimidating, particularly as I am not especially adept at intricate tasks requiring a certain level of eye-hand coordination. But, after jumping over to the Steamy Kitchen's blog post on how to fold Chinese dumplings, I was up and running in no time.
I actually ended up enjoying the process…the repetitive mantra of "push/pleat" as I sealed the dumplings, the sizzle of the oil as I dropped them into the frying pan, and the hiss of the water as the they gently steamed. While mine weren't as pretty as my mentor's, the combination of pork, ginger, and garlic was absolutely delicious…reminding me that it's what's beneath the surface that really matters.
In the spirit of the Chinese New Year, I enjoyed a "good fortune" dumpling at midnight…and discovered the next morning that they are equally good for breakfast!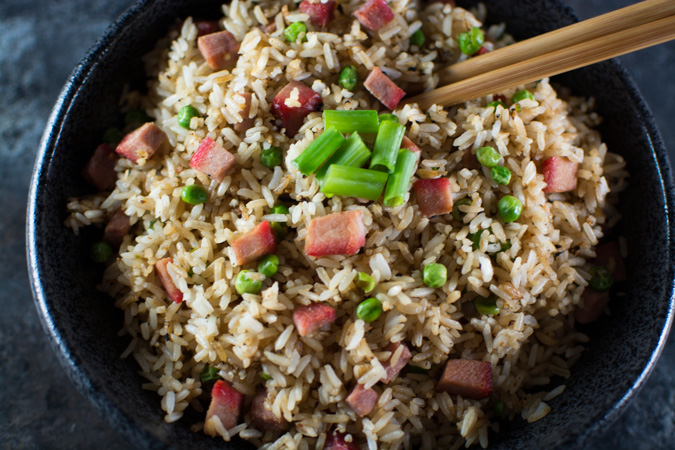 FRIED RICE 
When I committed to this process – of making five recipes from a different cookbook each week – I knew that I wanted to chronicle both the hits and misses. This recipe was more of a "miss" for me, but that was primarily due to "operator error" as opposed to the recipe itself.
I burnt the stove top rice on my first round, and ended up digging out my rice cooker for round two. The bigger problem was miscalculating the proportions – a result of "going too fast" and not reading the recipe clearly…of using three cups of dried rice (which made about nine cups cooked!) as opposed to using only three cups of cooked rice as the recipe called for. But…I did a little adjusting, and surprisingly, the rice was actually pretty good. The technique itself was fairly simple, and one that I will absolutely try again. Cookbook author Peter Meehan includes other variations as well, and I look forward to trying the Thai herb fried rice recipe next time.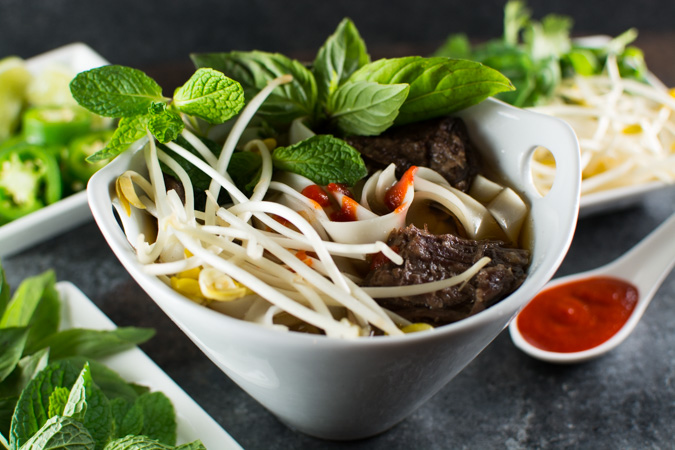 SLOW COOKER PHO
Hands down, this slow cooker pho was my favorite recipe of the week – I loved both the experience of preparing it and the final product. Using the slow cooker  was a fun and easy way to prepare the dish…one that I initially thought far too complicated to make at home.
The aromas, the diverse textures, the flavors – changing a bit with each bite, but harmonious in their entirety…the process was a complete sensory experience and the highlight of my cooking week. This is one of the richest, most soul-satisfying broths that I've ever made, and even after I had used up all the rice noodles and beef, I ended up drinking the broth all by itself.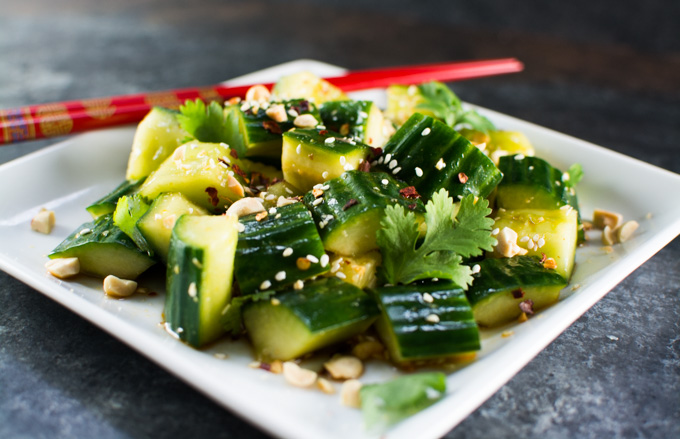 CHINEASY CUCUMBER SALAD 
Cool, crisp, with a hint of summer…this Chineasy cucumber salad has a refreshing blend of sweet and sour flavors. I enjoyed the combination of the sour Chinkiang black vinegar, the spicy chili oil, and the sweetness of the turbinado sugar. The peanuts and cilantro topping off the salad provide a nice bit of texture and saltiness, providing an unexpected burst of flavor.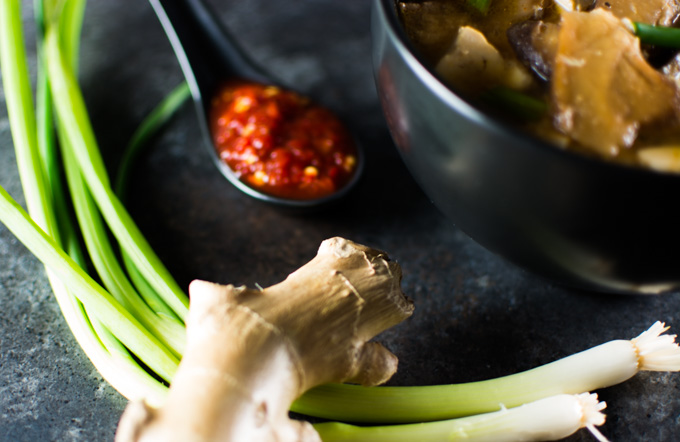 Hot and Sour Soup 
Hot and sour soup is one of my favorites, and I order it virtually every time I visit a Chinese restaurant. While this is the first time I've made it at home, it won't be the last.
I used a meaty pork shoulder, but getting my knife to cut through it proved to be a challenge…no worries though, the rich flavor of this meat compensated for my lack of precise "matchstick" cuts. Substance over style – it might not be pretty, but the taste of this soup more than makes up for it.
This is the perfect soup for winter, with layers of flavor that sneak up on you – garlic, ginger, rice vinegar, soy sauce, pork, and mushroom – leading to a slow and satisfying burn.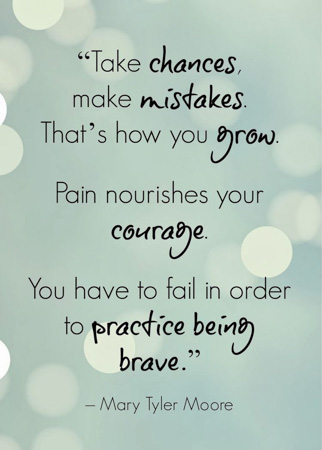 VULNERABILITY 
Mary Tyler Moore, a legendary actress and a strong woman, passed away this week. I came across this quote of hers, one of many insightful messages that she shared during her life, and it seemed especially appropriate.
Cooking didn't go as smoothly this week…a pot of burnt rice, a batch of unevenly cooked dumplings, a cut finger, a spilled gallon of soup.  But that's only to be expected when you step outside the box and try something new. You're going to make mistakes, you're going to struggle, and you're going to learn from all of it.
This was also a more challenging week on another level. For most of my life, my writing has been intensely personal, something I've hesitated to share with the outside world. But this week I stepped outside of my comfort zone, reaching out and sharing my posts on social media, and inviting people to subscribe to this blog.
An exciting step forward…and one that also left me feeling a little uncomfortable, a little anxious, and a little vulnerable.
But I also know that growth means allowing yourself to be vulnerable…of  being willing to try something new, of being willing to fail and learn from the mistakes, of being willing to strip back the layers and reveal a little more of yourself.
In the words of an ancient Chinese proverb, "Be not afraid of going slowly, be afraid only of standing still."