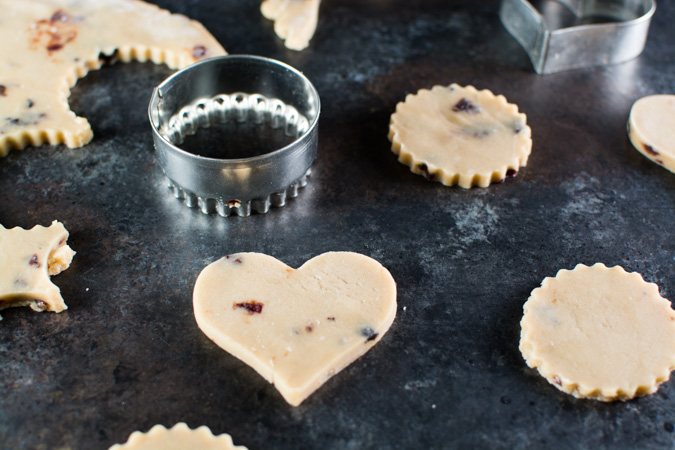 The Process 
I have a tendency to focus on results, to work hard toward meeting a goal, to want to get to the finish line. But this week reminded me of an essential truth…that sometimes the most significant moments are to be found, not just in the end result, but in the process as well.
As I started thumbing through the pages of this week's cookbook, I was intrigued to read that the Macrina Bakery and Café was named, not for its founder Leslie Mackie, but rather for Saint Macrina – a fourth century nun who was known for "working to improve the life of her community." That resonated with me, as I'm fortunate to work with an incredibly talented and passionate group of educators, who are absolutely committed to making a difference in the lives of our students.
I liked the idea of baking for my colleagues this week, of giving back a bit…especially as this is also National Baking Month.  With that in mind, I spent last weekend immersed in a sea of butter, sugar, flour, and a myriad of ingredients that transform the simple into the sublime…dried cherries, almonds, golden raisins, dark chocolate, fresh ginger, orange zest, and molasses.
As I packed up all my creations on Sunday night, exhausted and yet excited to share them, I reflected on what a gift this weekend of baking had been…
It was the physicality, the pleasure of touch…the seesaw of the knife as I chopped roasted almonds, the gentle give of a cookie cutter sinking into shortbread, the rhythmic kneading of scone dough – oddly meditative in its own way.
It was the sights…dried dark cherries plumping up in a bowl of warm water, pale yellow ribbons of butter and sugar swirling together in the mixer, shimmering sugar crystals topping  golden-toned scones.
It was the smells emanating from the kitchen… bright notes of orange zest, bittersweet chocolate melting into butter, hints of spicy ginger and molasses.
It was the process of baking – the creativity, the serenity, the sensory engagement – that was every bit as special as the end result.
Here is this week's Taste Five.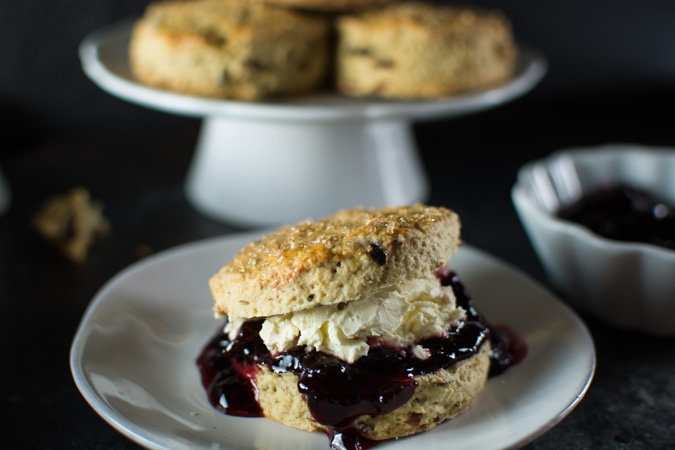 Cherry Almond Scones 
Scones have a special place in my heart, evoking memories that take me back in time…enjoying high tea with my mom on a spring break trip to Victoria, snacking on warm raspberry jam-filled scones from the Puyallup Fair, and most especially – taking afternoon tea breaks while living England. I love the British tradition of finding time in a busy day to slow down, relax, and enjoy a simple pleasure.
This Macrina recipe, filled with tart cherries and roasted almonds, is absolutely fantastic. I even splurged and bought a bottle of Devon double cream at my local market – a throwback to those days in the English countryside, and along with a spot of cherry jam…these scones hit all the right notes.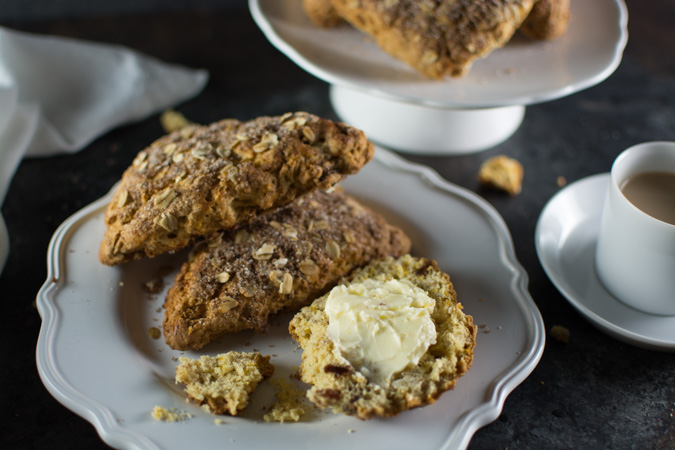 Citrus Oat Scones
This is one of those "quiet" recipes that snuck up on me. I love flipping through the pages of a cookbook and tagging the ones I want to try, but this recipe didn't initially make my first cut. However, on second glance, it was the addition of orange zest that attracted my attention, an ingredient that I haven't used a lot in baking…but I'm grateful that I gave it a try.
The layered flavors of this scone are impressive…the bright punch of orange – perfect for a winter day – and the wholesomeness of oats, topped off by a crunchy coating of cinnamon, sugar, and nutmeg. Macrina owner Leslie Mackie writes that "we've been baking these popular scones since day one" and I can see why…they might not be flashy, but they are absolutely delicious.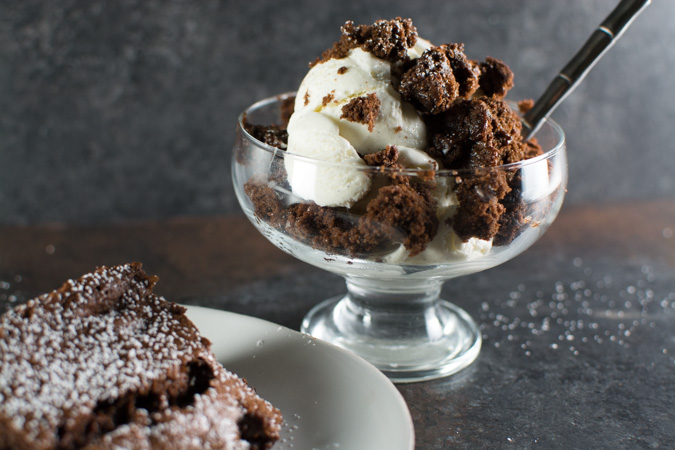 Bittersweet Chocolate Brownies
I grew up eating brownies…the boxed mix variety– and I absolutely loved them, but as an adult I've been on a mission to find a homemade "keeper" recipe for my baking repertoire. This Macrina recipe intrigued me with its description of "chocolate cotton candy," and it was different than any other technique I've tried, with a lighter, mousse-like texture, similar to a molten chocolate cake.
Getting the brownies out of the pan was an adventure in itself…and called for a "change in plans" as they collapsed in transit. Following my Sunday evening photo shoot, I enjoyed a bowl of vanilla bean ice cream topped off with these crumbled chocolate brownies…rich, decadent, and rewarding. While I still haven't found my "keeper" recipe, I enjoyed experimenting with this one. The quest continues!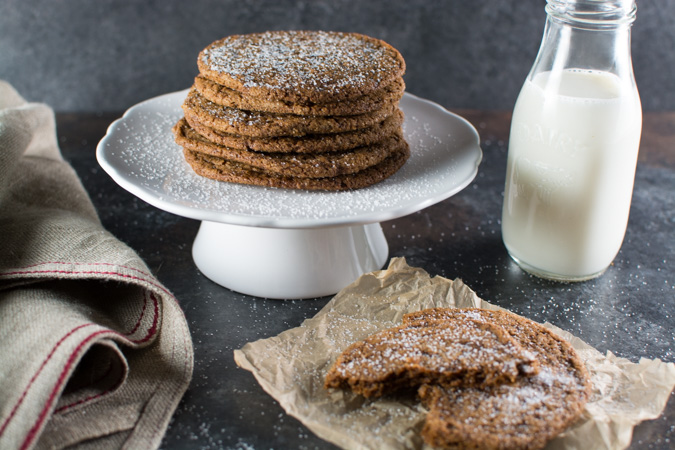 Ginger and Molasses Cookies
Ginger, molasses, and winter – they just seem to go together. My Grandma Barb made the most amazing gingersnaps, and I've always loved this flavor combination.  One of my favorite childhood memories is running outside to greet her as she pulled into our driveway, popped open her trunk, and unloaded the baked goods that she would inevitably arrive with…angel food cake, frosted pink sugar cookies, and her much-loved gingersnaps.
These molasses cookies from Macrina are quite different than my grandma's – larger, a little softer, and much chewier – but with that same burst of flavor that is just perfect on a cold winter day. I especially admire the inclusion of fresh ginger and how it subtly infuses the cookies with an additional layer of flavor. I will be making these time and time again…and thinking of my grandma with each bite.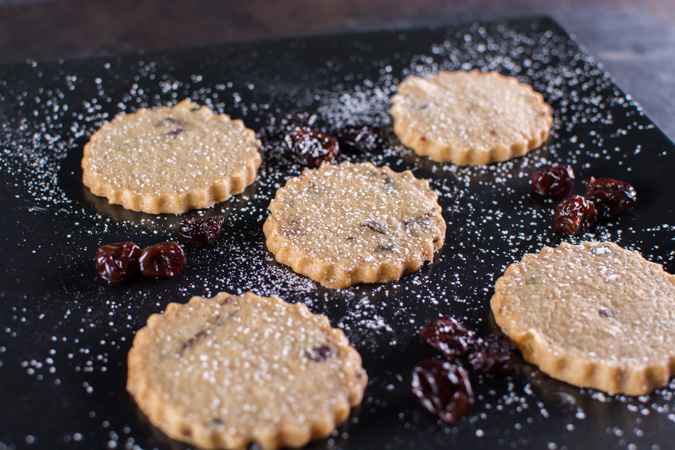 Sour Cherry Shortbread
While I was pondering the recipes I wanted to try this week, I asked a friend and fellow teacher for her input. She didn't hesitate as I read off the list of potential selections…sour cherry shortbread it was.
I spent part of Saturday afternoon rummaging through my bin of cookie cutters, a treasured collection inherited from my mom and grandma, hunting for the ones I wanted to use – a welcome side-trip down memory lane. Making these cookies was a treat in itself…there is something so inherently satisfying about rolling out the dough, sinking a cutter into it, pulling out a perfectly shaped cookie, and then watching it emerge from the oven as a rich buttery bite of goodness.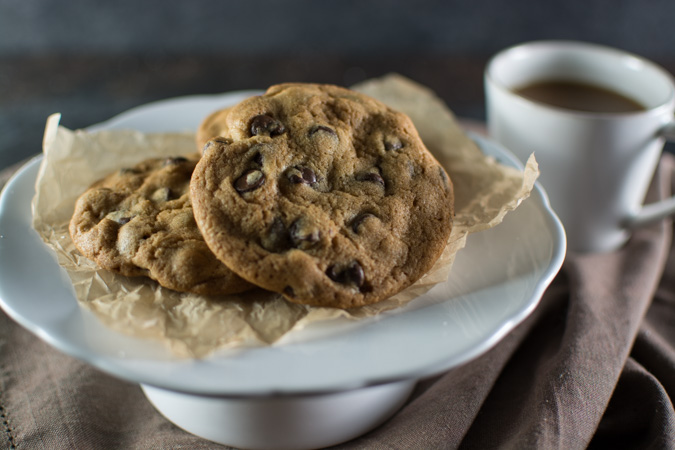 Gifts
I ended this week with a recipe I've made before…one that the author describes as the "biggest seller" at the Macrina Bakery and Café – Olivia's Old-Fashioned Chocolate Chip Cookies. A fitting finale to a weekend of baking, and just as good as I had remembered.
I love baker Carol Field's reflection in the foreword to this cookbook: "…Leslie has given us all a special gift. With this book she is preserving important traditions and encouraging the next generations to participate in the magic of baking."
As Leslie Mackie herself writes, "This book is about the magic I experience at the bakery every day."
Working my way through this week's recipes, I experienced a bit of that magic myself. As I bundled up the scones and cookies, looking forward to delivering them to work, I thought about the gift of food – both the act of creating it and of sharing it.
Last week we also celebrated Martin Luther King Jr. Day, and I was reminded of one of my favorite quotes by Dr. King: "Life's most persistent and urgent question is, 'What are you doing for others?' "
Sometimes it's about making a huge statement or a significant change…and sometimes it's about the smaller, simpler gestures.
Sometimes it's as simple as the gift of sharing something you've made…of gathering up your empty containers at the end of the day, and hoping that a chocolate chip cookie may have brightened someone's day.