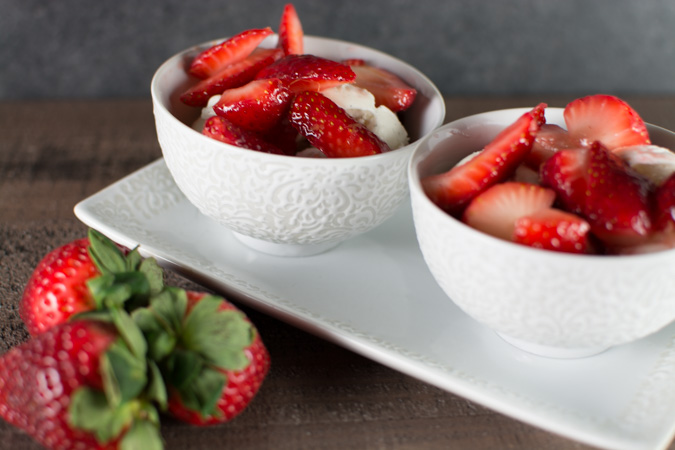 Back To Basics
There's this incessant urge that hits me after the Christmas and New Year celebrations are over. As reality sinks in, I'm drawn toward getting back to the basics…eating a little healthier, taking care of neglected tasks, resuming everyday routines. After the frantic pace of the holidays, it feels good to focus on the fundamentals – to keep it simple.
Cooking from Jessica Seinfeld's The Can't Cook Book was the perfect fit this week. As the original cookbook that started off my kitchen journey, revisiting it was a poignant reminder that cooking – just like life – doesn't always have to be extravagant or complicated.
Here is this week's Taste Five.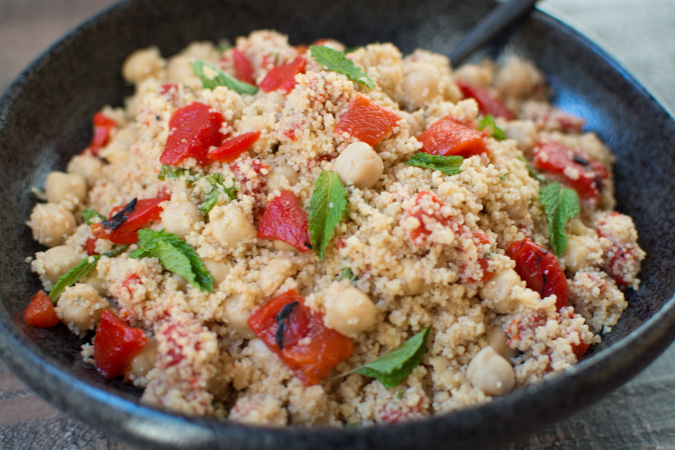 Couscous Salad
This was a busy week, and finding a quick and easy recipe to make on the fly is always a plus. Jessica's original recipe calls for tomatoes and scallions, but I changed it up a bit, substituting roasted red peppers and garlic…and the result was absolutely delicious.  The whole wheat couscous was a healthy addition, and I found myself snacking on this throughout the week. Her original recipe – Couscous Salad with Tomatoes and Mint – can be found on her website, but this versatile recipe also lends itself to a wide variety of adaptations.
Amidst the hectic pace of this week, I was reminded of a simple truth. Start with a strong foundation – a solid core – and so many possibilities open up.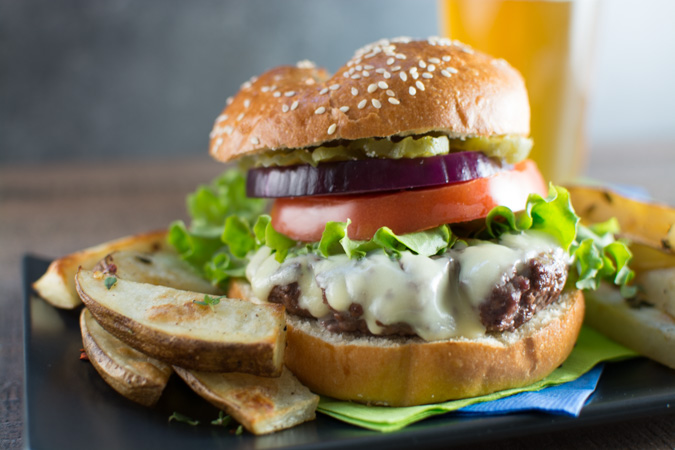 The Most Simple, Broiled, Perfect, Hamburger
The Seattle Seahawks, our hometown favorites, were in an AFC playoff game against the Atlanta Falcons this weekend, and hamburgers sounded like the ideal game day meal. Over the years I've experimented with a variety of burger recipes, but I was intrigued by the short ingredient list in this recipe: hamburger, salt and paper. No fancy ingredients, just pure flavors in their simplest form…quick and easy to make for a halftime treat.
I did splurge a bit and picked up some Bakery brioche buns to top them off, but in truth – these burgers would have stood the taste test all on their own. Simple – but perfect.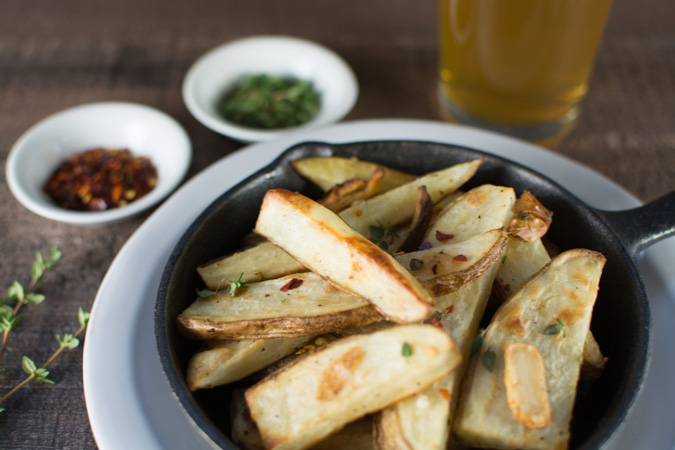 Oven Fries
What's a burger without fries? The original recipe in The Can't Cook Book calls for just olive oil, salt, and pepper, but after searching Jessica's blog, I saw an updated version that I wanted to try – Steak Fries with Garlic and Thyme (with red pepper flakes thrown in for an extra kick). Roasting homemade fries in the oven was a first for me…I grew up with the frozen bagged version, never contemplating the possibility of making my own. But this simple, yet flavor-packed technique, has me sold.
Burger, fries, and a cold beer at halftime…yes, please.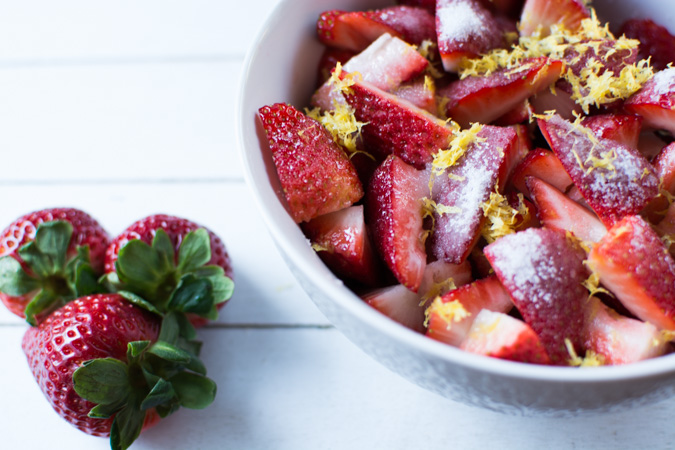 Marinated Strawberries with Ice Cream
Ultimately, the Seahawks lost their playoff game, ending our hopes of a Super Bowl repeat. It was a tough loss, I have to admit, but digging into this bowl of strawberries and vanilla bean ice cream made it a little bit easier to handle.
I'm a huge fan of eating what's locally in season, but when the craving hits, sometimes you just have to go with it. We're a little spoiled in Washington, with our renowned summer strawberries, and it's rare that I buy berries in winter, but this recipe called to me with its unique inclusion of lemon as a key ingredient.
Lemons in winter – adding a bright note to a dish – are one of my favorites, and this flavor combination didn't disappoint. A simple technique – slice the berries, add a touch of sugar, top off with lemon juice and zest…and an absolute hit in my kitchen.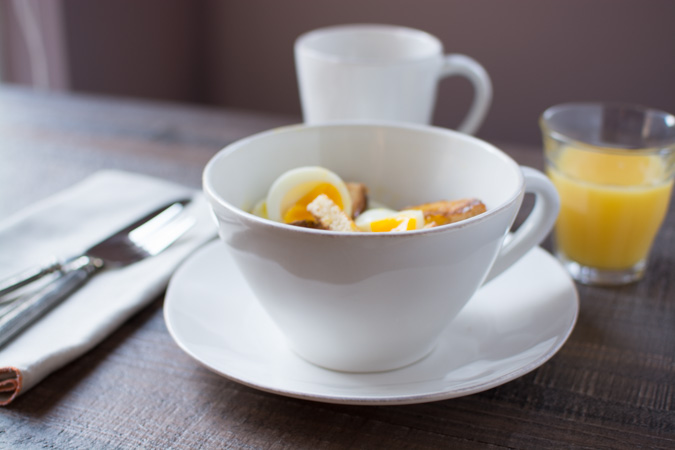 Soft-boiled Eggs with Toast a.k.a The Granny Egg
I love quiet Sunday mornings in the kitchen…getting up early, experimenting with a new recipe, jotting down notes in my journal, and reflecting on the week. This recipe for soft-boiled eggs with toast was a little "outside the box" for me – as I've been solidly in the scrambled egg camp for most of my life, and soft-boiled has never been on my "must try" list.
But, change is good…and I have been converted. These simple flavors hit the perfect note on a cold winter morning – egg, toast, butter, salt, and pepper – soothing, comforting, and more than a little magical at the end of a busy week.
So Simple, So Good
In the introduction to this recipe, Jessica writes, "So Simple, So Good" –  words to live by.  As I settled back into my routines this week, I was reminded of the pleasures to be found in simple things.
A spoonful of strawberries and ice cream on a dark winter day. A whiff of garlic and thyme-infused potatoes roasting in the oven. A bite of toast and eggs on a peaceful Sunday morning.
An unexpected phone call that touches your heart. A glimpse of a full moon framing snow-capped mountains. A soft down comforter to curl into at the end of the day.
So simple, so good.
-Kimberly