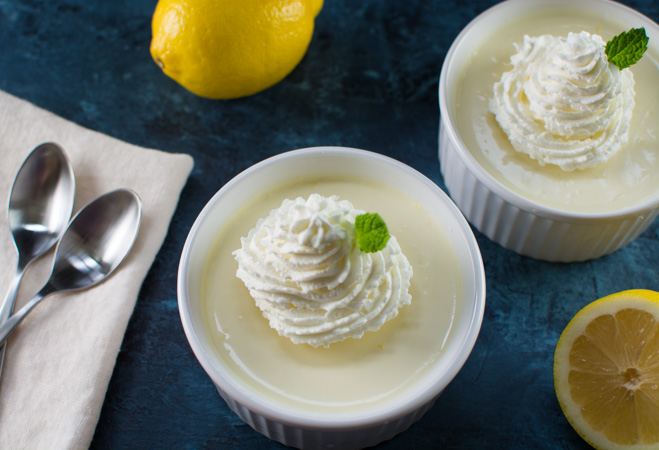 The Pantry 
Last week started off with the arrival of snow, followed by icy conditions that kept us blanketed in white for the first part of the week. As the snow moved on, a blustery storm moved in, complete with driving rain and gusty winds.
Perfect weather for staying in. Perfect weather for cooking at home. Perfect weather for turning to the pantry.
I've always loved the word "pantry" – packed with nuance and imagery…conveying sustenance, comfort, and possibility. In My Kitchen Year, author Ruth Reichl writes of being snowed in at her upstate New York winter cabin. As the snow continued to fall, isolating her from town, she looked toward her pantry, ultimately creating magic with the simple ingredients she had on hand.
My own foray into cooking this winter has included frequent visits to our local markets, lengthy ingredient lists in hand, as I tried new recipes. But on that snowy Monday morning, after thumbing through Ruth's cookbook in search of recipes to make, I followed her example…taking stock of the supplies available in my pantry – excited by the potential.
As the snow and rain raged on, it felt good to stay at home…to turn to my own pantry, to make do with what was on hand, and to spend the week cooking these simple but satisfying recipes.
Here is this week's Taste Five.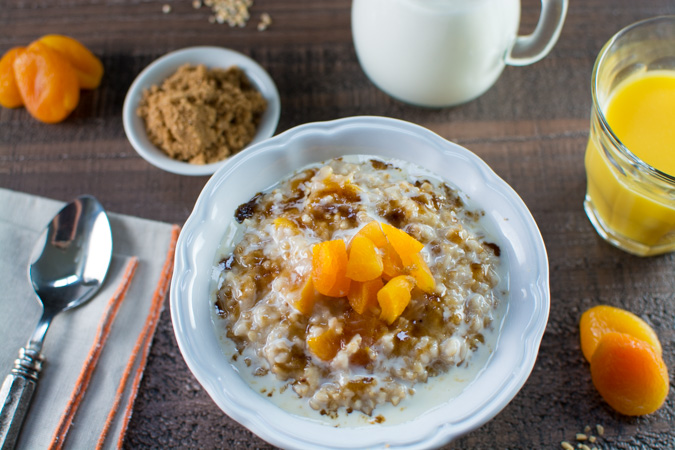 Butter-Toasted Apricot Oatmeal
A bowl of hot oatmeal on a snowy morning – bliss. My pantry is always stocked with a container of traditional oats, and it's one of my favorite winter breakfasts. But I was excited to try a new variety that I had picked up a few months ago….steel cut oats. As I stood in the kitchen, watching the snow continue to fall outside, I enjoyed every step of making oatmeal the "old-fashioned" way. Toasting the oats in browned butter, letting the oatmeal slowly simmer on the stove, adding the chopped apricots at the end – it was a quiet, meditative morning, and a lovely sensory experience. As Ruth so beautifully writes, "…the aroma of oats toasting in butter is one of the finest scents on earth."
The flavor was quite different than the standard microwaved bowl of Quaker oats I grew up with – a little saltier, more savory, and definitely chewier – but absolutely delicious, and the addition of dried apricots lent a nice touch of sweetness. Topped off with a sprinkling of brown sugar and a drizzle of cream, this butter-toasted apricot oatmeal was the perfect breakfast for a stormy winter day.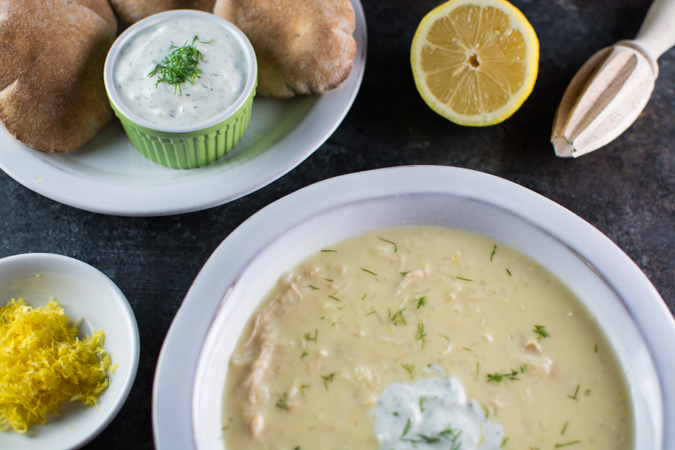 Avgolemono Soup 
There's a little Greek restaurant located in my hometown, and and whenever I'm fighting a cold or just in need of a little comfort food, it's my "go to" destination…primarily for their lemony avgolemono soup. When the snow hit last week, and I was "marooned" for the day, I came across a recipe for this same soup in Ruth's cookbook, and realized – to my delight –  that I had all the ingredients to make this favorite at home.
I pulled out the basic ingredients – lemons, jasmine rice, chicken stock, and eggs – threw in some leftover roasted chicken breast, and within half an hour, had a simmering pot of avgolemono ready to go. Served with a side of whole wheat pitas and a garlicky yogurt tzatziki sauce, it was a bright and comforting soup that I enjoyed over and over for the rest of the week. Easy to make and full of flavor, this avgolemono soup recipe will remain a staple in my winter repertoire.

Gingered Applesauce Cake Glazed with Caramel
From the time I was a little girl, I've been baking on "snow days" – there's something about the first flakes beginning to fall that calls me into the kitchen. When I came across this spicy cake recipe, I knew that I had to make it…and I spent that first snowy morning preparing Ruth's homemade applesauce recipe to use in the cake.
Growing up, my mom and grandma were both known for their applesauce…and I used to love tucking into a warm bowl topped with a sprinkling of cinnamon and sugar. I thought of my mom as I peeled the six Granny Smith apples for this recipe. My last memory of baking with her was preparing an apple crisp together. She was quite sick at that point, but she gamely sat at her kitchen table, skillfully peeling apples, as I put together the crisp topping. A poignant memory and one that I treasure.
Making this homemade applesauce was a pleasure in itself. I tossed the coarsely chopped apples into a big pan, threw in a cinnamon stick, sugar, a bit of lemon, and a splash of water…and then enjoyed a relaxing morning accompanied by the sputter of the apples slowly breaking down and the scent of cinnamon wafting through my kitchen.
I made the cake the next day, and I have to admit that it's one of the best spice cakes I've ever tasted. The combination of the chunky applesauce with the spicy cloves, cinnamon, and ginger, is absolutely perfect. The recipe calls for a  homemade caramel glaze – another first for me – and one of my favorite moments was pouring it over the Bundt cake and watching it slowly drip down the sides and onto the cake stand.
But my absolute favorite moment was that first bite…and then the next and the next. This is a fabulous gingered applesauce cake – moist, packed with flavor, unique, and topped with a sticky caramel glaze that truly takes it over the top.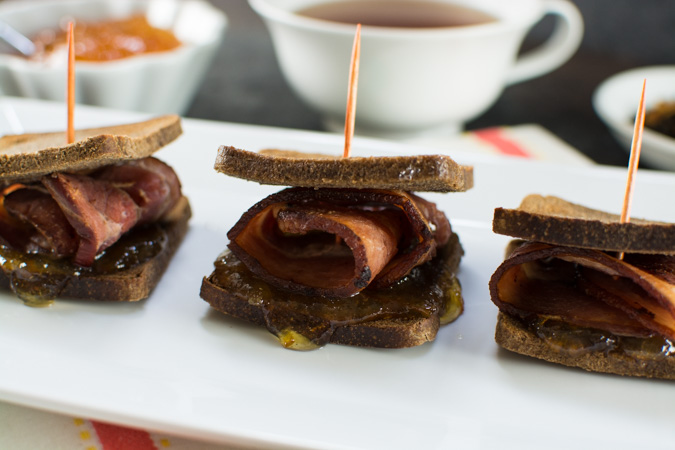 My Version of Prune's Bacon and Marmalade Sandwich
Pumpernickel bread, bacon, orange marmalade…this recipe caught my attention due to its rather unusual combination of ingredients. I like trying new things, and this one certainly fit the bill. After a few days of staying inside, ducking the crazy weather, I finally ventured out to the grocery store to stock up on these specialty ingredients…center-cut honey-smoked bacon, a thick orange marmalade, and cocktail-sized pumpernickel bread.
It was a quick and easy sandwich to make, and I paired it up with a light tea – Barnes & Watson's "Delicate Orange Spice" – for a relaxing break. Although I can't say that I absolutely loved the combination of flavors, and I'm not sure I'd make these sandwiches again, I can say that I did love the experience.
Trying something new, sipping a cup of hot tea, nibbling on a bite-sized sandwich, listening to the rain pour down – a lovely way to spend a winter afternoon.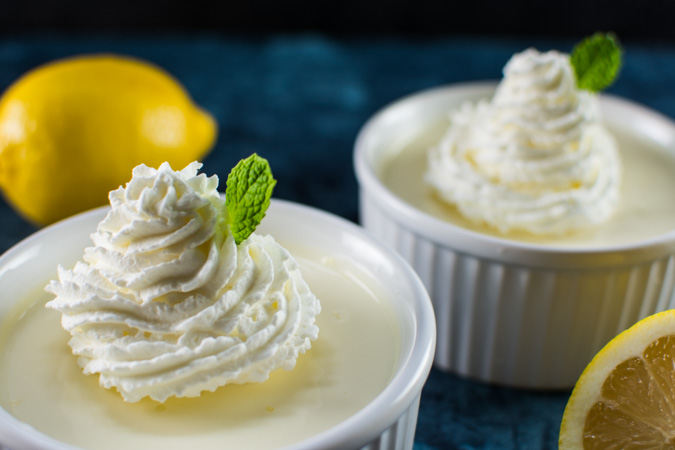 Lemon Panna Cotta 
The Amalfi Coast of Italy is one of my favorite travel destinations, and this dessert took me back to days spent on that magnificent, sun-drenched coast. On my last trip to Italy, I stayed in a little hotel in Sorrento that overlooked the Bay of Naples. Just outside my window were a variety of citrus trees – fragrant, lush, and laden with the largest lemons I've ever seen.
I've never made a panna cotta before, but I love crème brulee, and this recipe reminded me of that.  The ingredients are incredibly simple…lemon juice, lemon zest, whipping cream, and sugar – but the flavor is amazing. Ruth shares that the cooks at Gourmet initially dismissed this recipe as "impossible" as it doesn't contain a binder of any sort. However, Ruth perservered, and she writes, "Feeling like an alchemist, I worked deliberately, concentrating on heating the cream very slowly. The result was more than I could have hoped for; it was the most delicate panna cotta I'd ever eaten."
Sitting in front of the fire, enjoying a winter storm – content to hear the winds and rain rage outside, I savored each bite of this rich dessert…a little taste of sunshine on a spoon.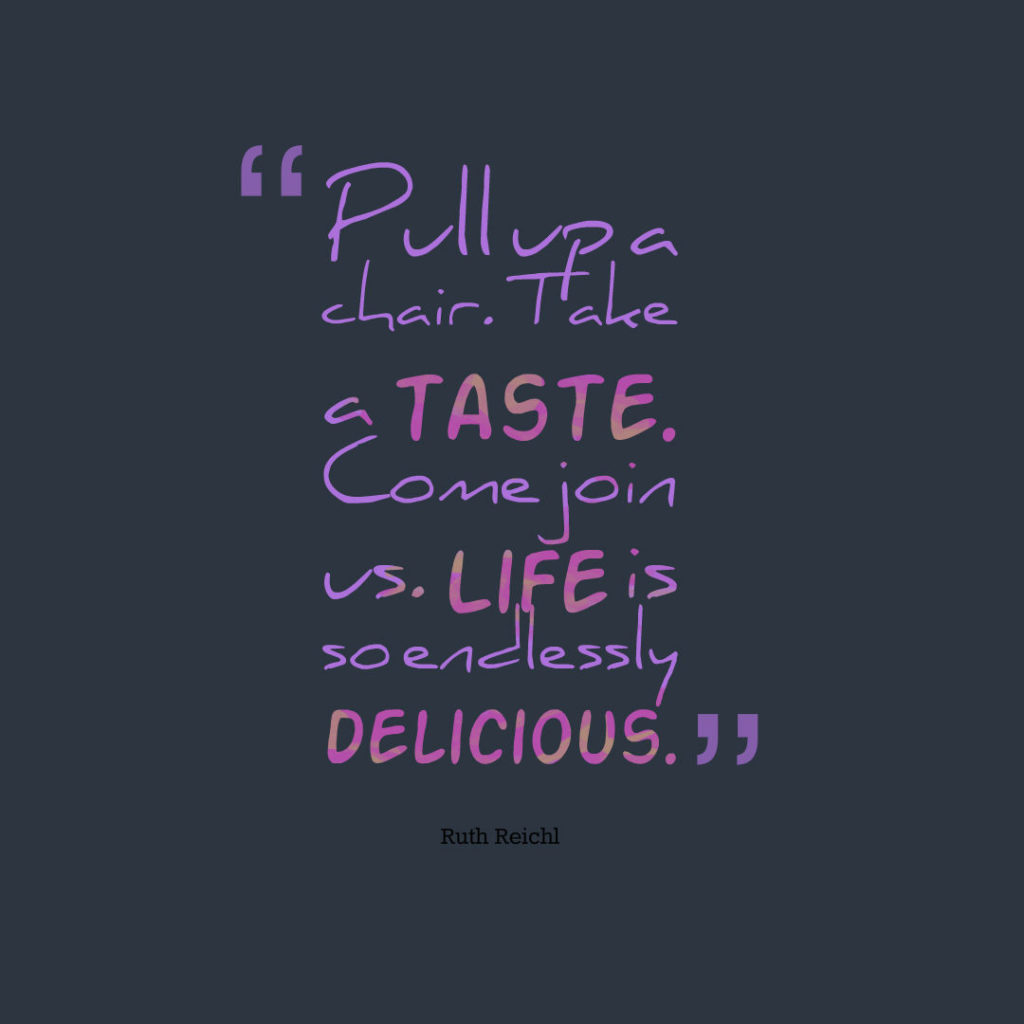 Possibilities 
A simple lemon. A cup of rice. A humble apple.
Basic pantry items – yet capable of being transformed into so much more. Throughout this stormy winter week, as I hunkered down at home and dug deep into my pantry, I was reminded of some basic truths as well.
That "magic" can happen when a little creativity is applied.
That "making do" can be a gift.
That it's the possibilities – whether it's in the kitchen or in life – that makes the adventure so very "delicious."