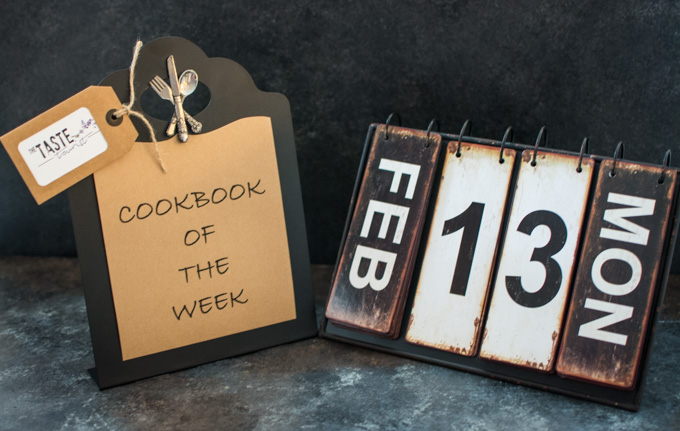 Love 
I have to admit it, I fell a little bit in love this week.
With a taste, a place, a vision – Theo Chocolate.
Early in the week, I made a trip to Fremont, one of my favorite Seattle neighborhoods, to check out a destination that has long been on my "must see" list.  Artsy, unique, and full of eclectic shops, restaurants, breweries, and artisan food businesses, Fremont is a highlight of any trip to Seattle, and I love spending time there exploring all it has to offer.
But on this most recent visit, my destination was more specific –  the Theo Chocolate Factory.
Theo offers tours throughout the week, and I was excited to embark on my first ever chocolate factory tour – not to mention looking forward to the multiple samples that were alluringly promised. The tour didn't disappoint…it was interesting, fun, and informative – and the quality of their artisan chocolate absolutely blew me away.
What I hadn't expected, however, was to come away from the hour-long tour so profoundly moved…not just by the chocolate, but by the business itself – the vision, the passion, the desire to make a difference in the world.
In honor of Valentine's Day – and the love of all things chocolate – this week's Cookbook of the Week is Theo Chocolate.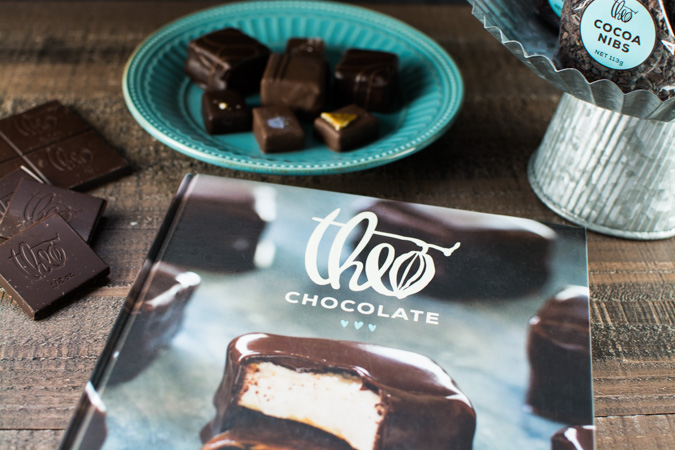 Theo Chocolate has a fascinating history, lovingly detailed in this namesake cookbook by authors Joe Whinney and Debra Music. A pioneer in bringing organic cocoa beans to the United States, Joe opened Theo Chocolate in Fremont in 2006, located in an historic red-brick building that formerly housed Seattle's streetcars and later the Red Hook Brewery. Joe and Debra's story is a testament to the power of collaboration and love…a marriage, a child, a divorce, and ultimately a beautiful partnership – both as parents and as colleagues at Theo.
Published in 2015, Theo Chocolate is more than just a collection of recipes. In the introduction, Debra writes, "…this cookbook is a long overdue opportunity for us to share with you all the creativity, passion, and love our team has conjured in our kitchen over the years." It is  an informative, thought-provoking, and insightful book – and clearly communicates their passion for sustainable agriculture, Fair Trade practices, and the production of outstanding artisan chocolate.
The early pages of the cookbook make for a fascinating read, outlining the process of producing bean-to-bar chocolate, sourcing practices, and the basics of working with chocolate. I was initially surprised by the inclusion of the many savory as well as sweet recipes…with several calling for cocoa nibs, an ingredient I'd never worked with, let alone heard of, prior to my factory tour. But after tasting them, I was sold, and I went home from Theo well-stocked with a variety of chocolate, including the nibs, and ready to dive into this cookbook.
What's on the "Taste Five" menu this week? Nibby crackers, roasted squash with brown butter nibs, Tom Douglas's roast chicken and wild mushroom warm bread salad with cocoa nibs, almond-olive oil sable cookies with chocolate, and gooey double-chocolate mocha cookies. I can't wait to get started.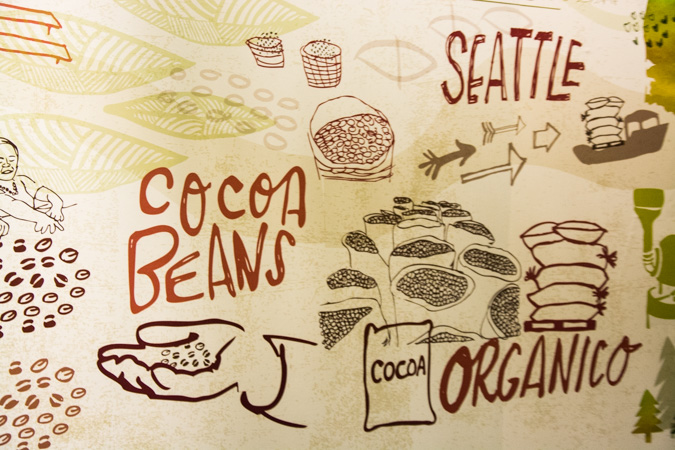 Passion 
If there is one word that sums up my impression of this company and this cookbook, it would be passion.
A passion for honoring the source – of ensuring that farmers are treated fairly and that agricultural practices are sustainable.
A passion for quality – of paying attention to every step of the production process and using high-quality organic ingredients.
A passion for innovation – of constantly searching for new methods, new flavor combinations, and new opportunities.
A passion for sharing – of educating the public and making a difference in our world.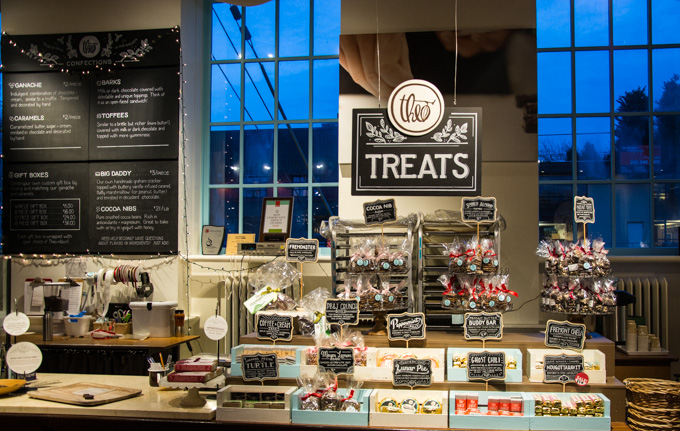 The Theo Chocolate tour ends in their store, and you are surrounded by chocolate – in every variation that you can imagine. A row of decadent ganache – with an ever-changing line-up of flavors – fronts one counter, and another wall offers up the more traditional chocolate bars…including my favorites: raspberry, salted almond, and coconut. And then there is what they call their "Fantasy Collection" of chocolates…with such unusual combinations as cinnamon horchata, black licorice, coconut curry, and ghost chili.
Unique and exceptional – a lot like the company itself.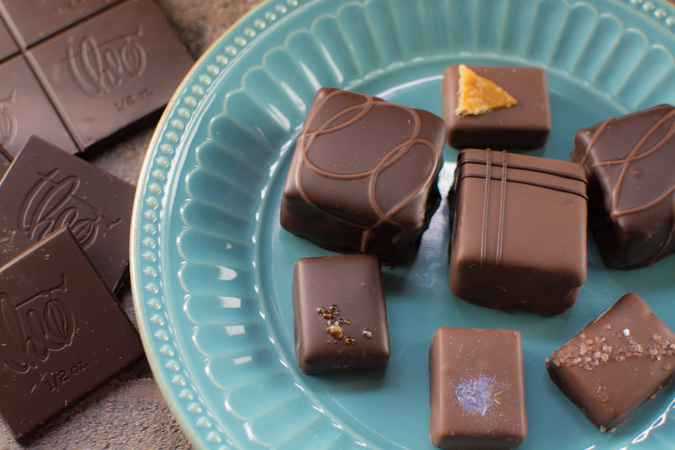 As it states on their website, "We've built Theo around the belief that cocoa beans are more than an ingredient. Our beans and the lives they touch are at the heart of our business."
And I swear you can feel that passion when you eat their chocolate – you know that it's something special, something out of the ordinary, something made with love.
It not only tastes good, it feels good as well.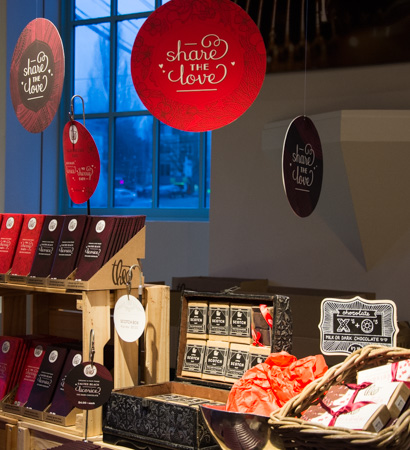 Happy Valentine's Day!
-Kimberly