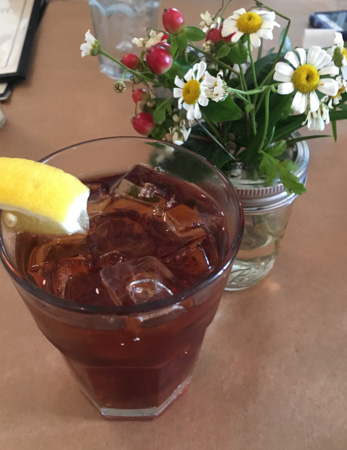 On the Road…Charleston to St. Augustine

There's nothing I look forward to more than a road trip, and this summer's was one of the best!
Four days on the road, traveling from Raleigh to Orlando with my boyfriend Mark and his daughter, enroute to a writing conference – not much time to linger, but an opportunity to savor some of the South's finest tastes and sites.
In a previous post, Taste Trip – Southern Bites Part One, I detailed our first two days on the road…
Day One: Seattle to Raleigh
Day Two: Raleigh to Charleston 
And then it was on to our next destination… 
DAY THREE: CHARLESTON TO SAVANNAH 
After a late night out in Charleston, we slept in and spent a leisurely morning taking in the peaceful views of the Ashley River. It was almost lunch time when we finally packed up and headed out the door for Savannah.
Leaving Charleston, a noted food destination, was tough as there were so many restaurants I still wanted to check out.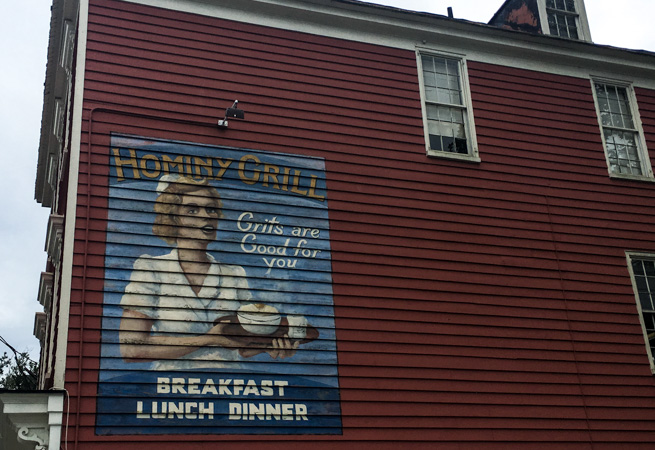 But before leaving town …there was one more essential stop on our itinerary.
A stop at a restaurant that was solidly on my "must try" list – both for its reputation and its iconic Southern menu packed full of classic dishes.
There was a line – and a bit of a wait – but it was worth it! One of the nicest features is that you can mingle outside in the garden and get a drink from the "to go" window   – a glass of sweet tea or a mimosa – while waiting for your table.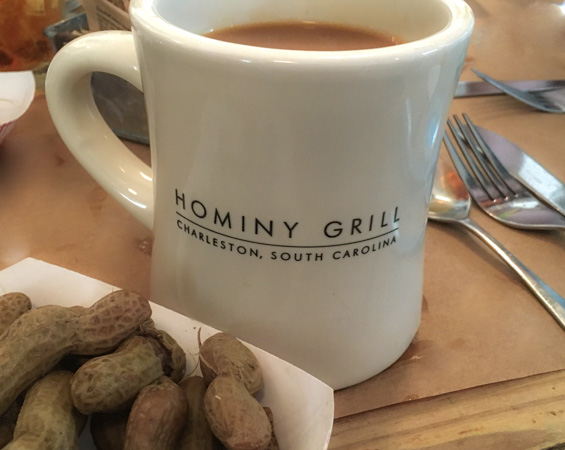 This starter magically arrived when we were seated…boiled peanuts, a first for all of us.
Their soft texture was a bit of a surprise, but I found them oddly addictive…and kept going back for more and more, even knowing a medley of dishes were on their way.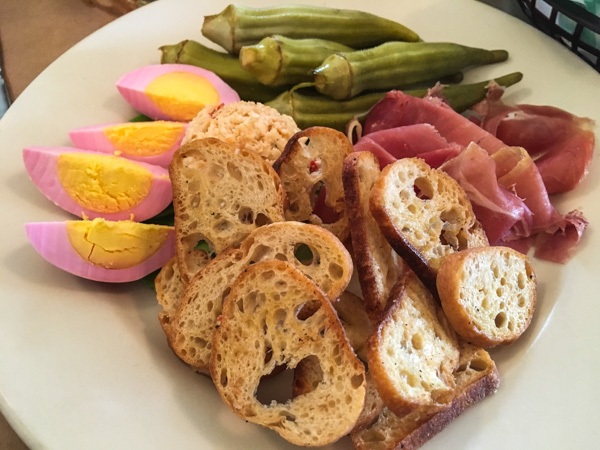 We wanted to try a collection of Southern appetizers, so we ordered the picnic plate – a tasty collection of pimento cheese, shaved country ham, pickled eggs, okra pickles, and garlic toasts.
The pickled okra was my absolute favorite – and my first taste of this Southern staple.
What an excellent introduction to these classic Southern tastes!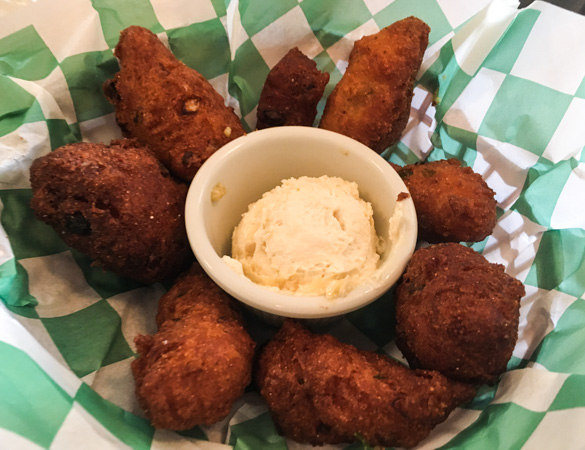 And the appetizers just kept coming…
In addition to splurging on a cup of she crab soup (loved the addition of sherry!), we ordered these jalapeno hushpuppies with sorghum butter, another novelty for me.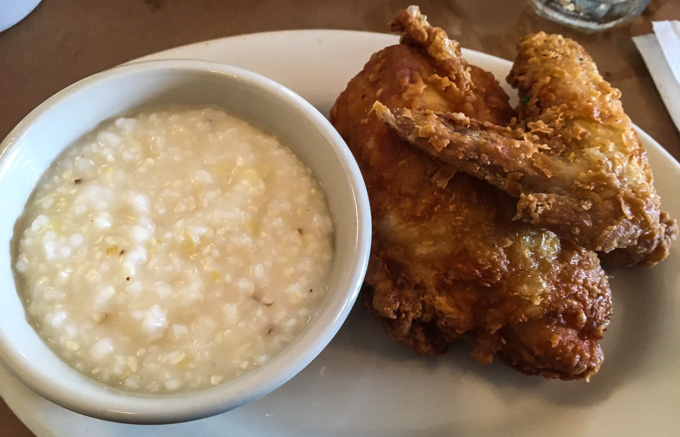 No surprise, we were stuffed before our entrees even arrived, but were determined to keep going.
Mark ordered the fried chicken with cheese grits and enjoyed every bite of this traditional dish.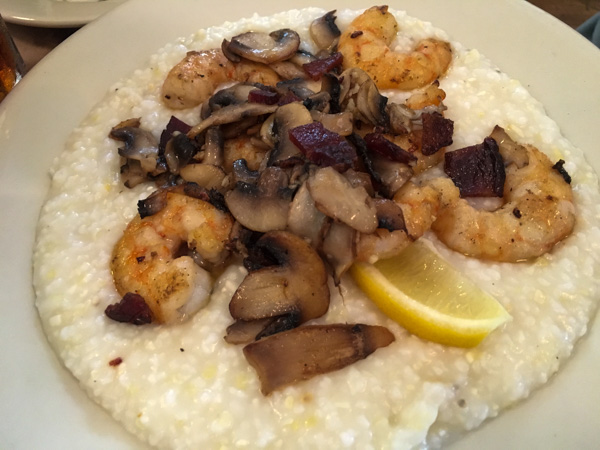 I ordered shrimp and grits…a savory combination of sautéed shrimp with mushrooms, scallions, and bacon served over cheese grits. Absolutely fabulous!
We rolled out of the Hominy Grill – beyond full – and set off on the two-hour drive to Savannah.
It's tough to eat that much before a road trip, but every bite there was truly the perfect Southern taste experience. Would we do it again?
Yes, ma'am.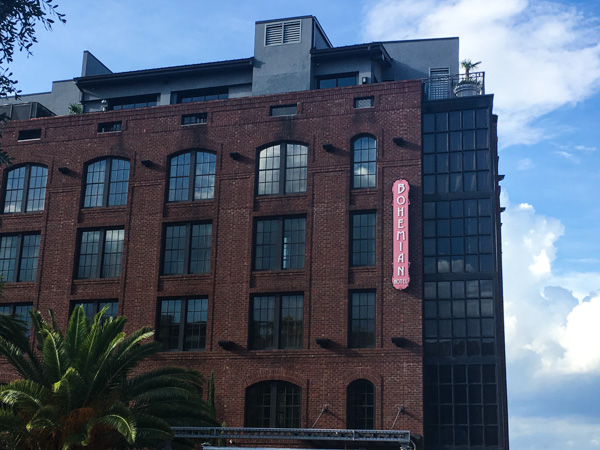 The drive to Savannah was an easy one – a straight shot down I-95. There were so many places off the interstate that I wanted to see…Beaufort and Georgia's Golden Isles, just to name a few – but I knew we had to save them for another day.
We arrived at our hotel in the early afternoon…the Bohemian Savannah,  a boutique riverfront hotel located in the historic district – and the one "splurge" of this trip (love those Marriott Reward Points).
The decor is a unique combination of the modern, with original art scattered throughout, and vintage, with an 18th century maritime theme. An elegant and stylish hotel with incredible views looking out over the Savannah River. 
While our fabulous room tempted us to linger, we wanted to get out and explore the city.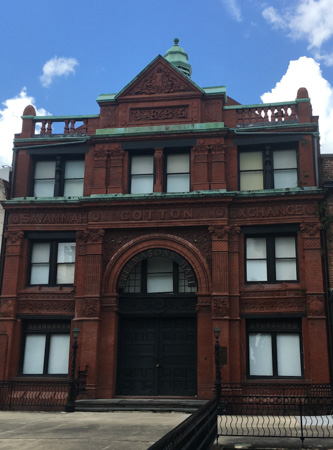 Starting out on River Walk, a cobblestone street that fronts the hotel and is made of ballast stones from the ships that once docked there, we meandered along its path enjoying the riverfront views.
After climbing the steep stairs back up to Bay Street, we encountered this Romanesque building – the Cotton Exchange, built in 1886 and once the headquarters of Savannah's huge cotton export business.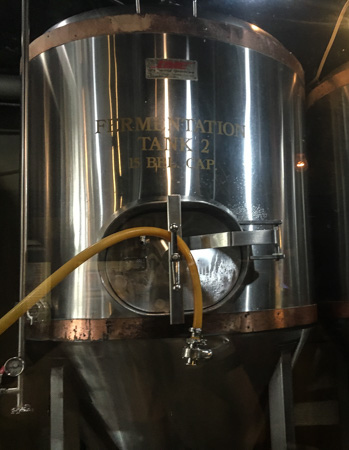 With the high humidity and heat, and lacking a "game plan," we ducked into the Moon River Brewery to ponder our options.
I always enjoy trying out local craft breweries, and I have to admit the name alone drew me in.
What we didn't realize at the time was that the building itself has an interesting history – built in 1821 as the City Hotel, this was also the location of the first U.S. Post Office in Savannah.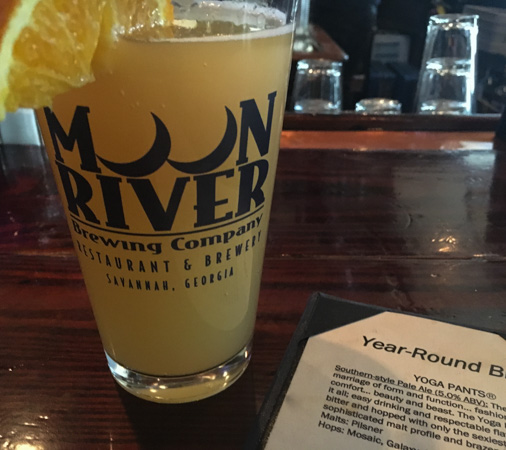 I ordered an American Pale Ale called Yoga Pants (loved it!), and we discussed our Savannah strategy – ultimately deciding to abandon the notion of a guided tour, and just wander a little.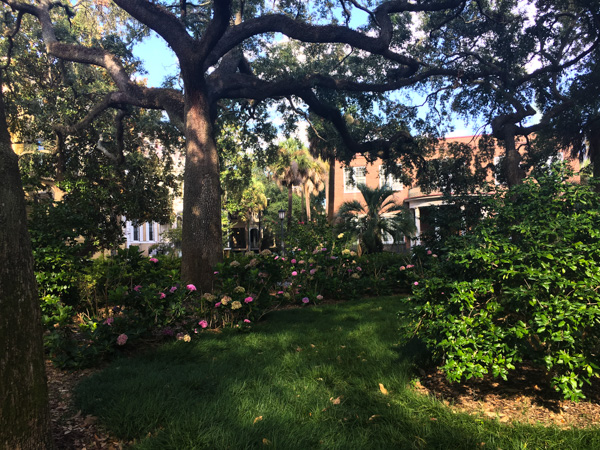 I'm a "guide book geek" and on the way into Savannah, had read all about the unique architectural design of Savannah's impressive historic district.
In his 1733 plan for Savannah, James Ogelthorpe, the founder of Georgia, originally designed Bull Street as the focal point of the district, and today there are five monumental squares located along its path.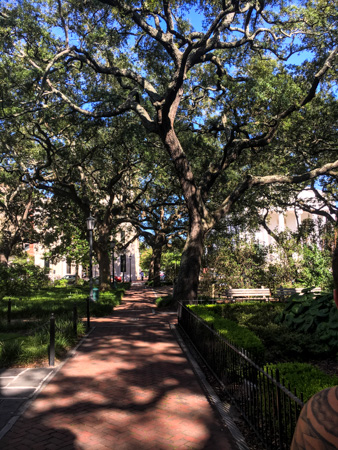 So, we headed up Bull Street, exploring and admiring each of the squares. Monday afternoon, as it turned out, was an excellent time to visit, as the streets were oddly devoid of tourists.
At every turn, we encountered statues and historic buildings, and while it was a little disconcerting to know we were bypassing so many notable sites…it was nice to just take in bits and pieces, soak in the atmosphere, and enjoy the moment – freeing oneself from the obligatory "must-see" mentality.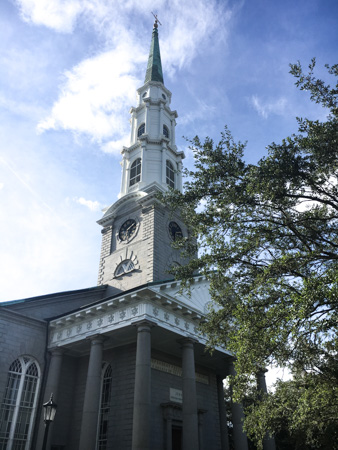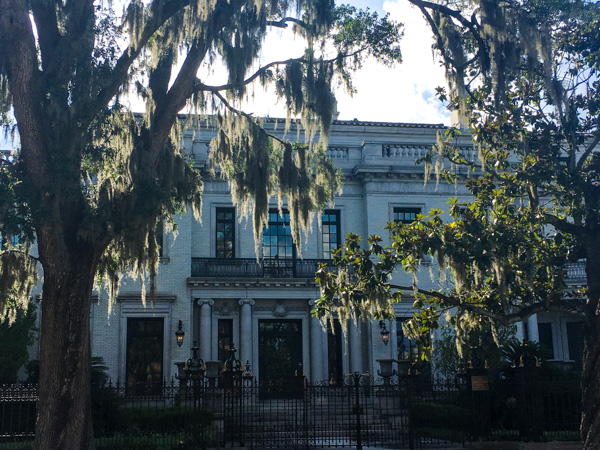 And the spectacular Savannah trees and foliage…magnolias and live oaks draped in Spanish moss everywhere you turn. Simply breathtaking.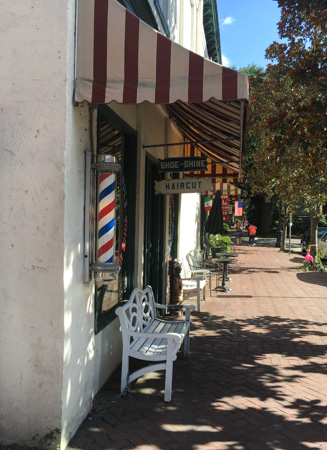 In addition to the historic mansions that surround the squares, niche businesses also line this ten-block street, including boutiques, bistros, and this vintage barber and shoe shine shop.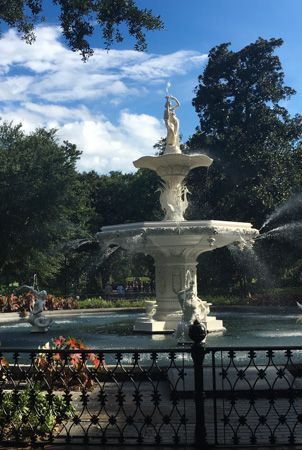 Bull Street runs directly into Forsyth Park, which encompasses 30 acres in the heart of Savannah.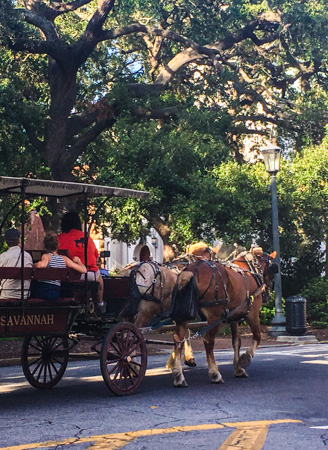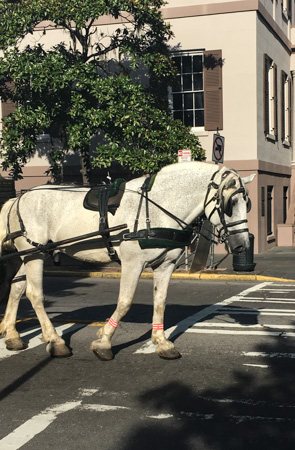 Along the way, we encountered these horse-drawn carriages, which can be found all over Savannah.
But ultimately, we were pleased we'd decided to explore on our own.
There's something about wandering through a new city on foot – a way of seeing it through your own eyes, at ground level, that's special.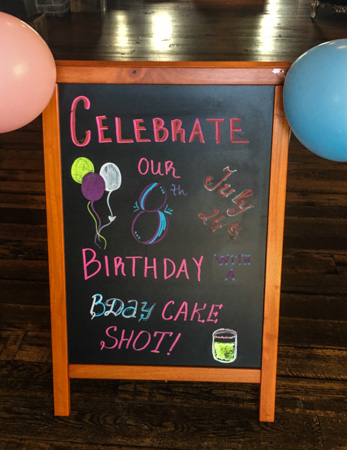 After walking several miles, we headed back to our hotel – worn out and thirsty, and ran right into this sign…urging us on up to Rocks on the Roof, a lounge located on the deck of our hotel.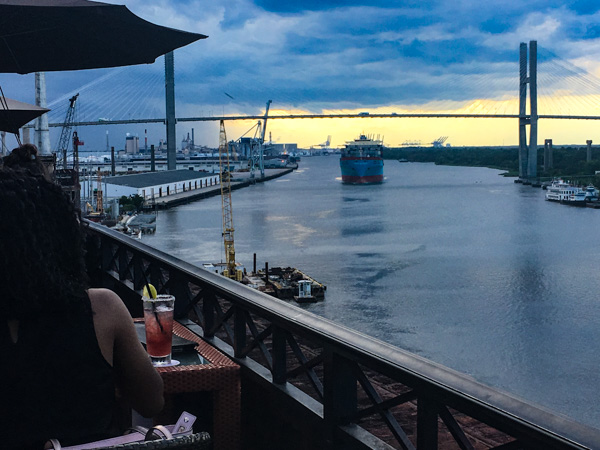 From the start we could see why this is such a popular Savannah gathering place; the rooftop views over the Savannah River are absolutely stellar.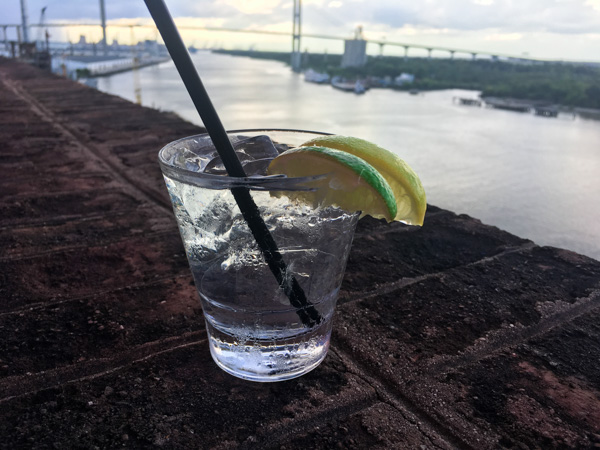 Not to mention, they have some pretty fabulous food and drinks. Mark ordered his usual –  Grey Goose vodka, club soda, and a lime….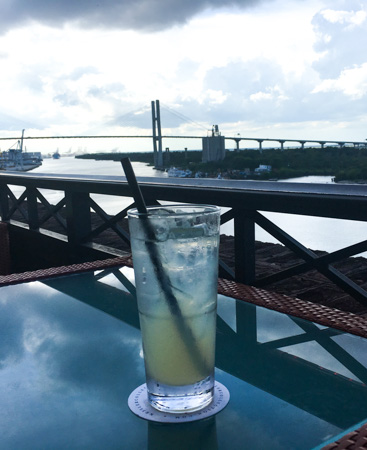 …and I ordered a Savannah mule – a refreshing combination of St. Augustine Distillery vodka, house made ginger liqueur, ginger beer, and fresh lime juice.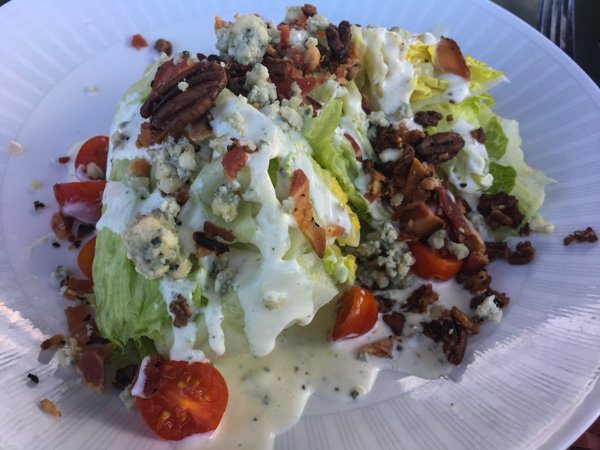 For apps, Mark chose the healthier, but absolutely delicious option…a wedge salad with smoked bacon, tomatoes, candied walnuts, bleu cheese crumbles, and jalapeno ranch dressing.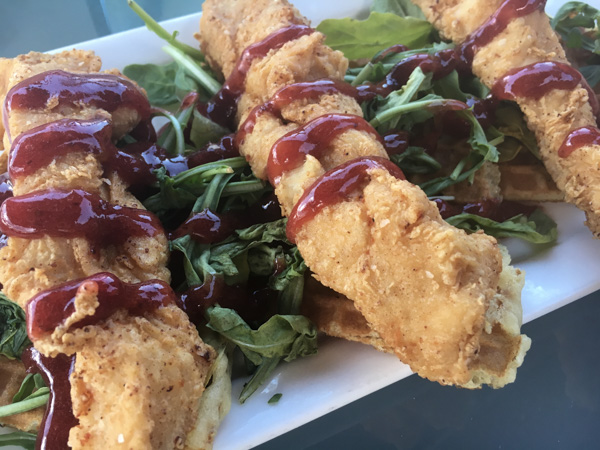 I was intrigued by the bar's creative take on chicken and waffles and enjoyed trying this unique combination of buttermilk crispy chicken, pink peppercorn strawberry jam, and arugula served on a waffle taco.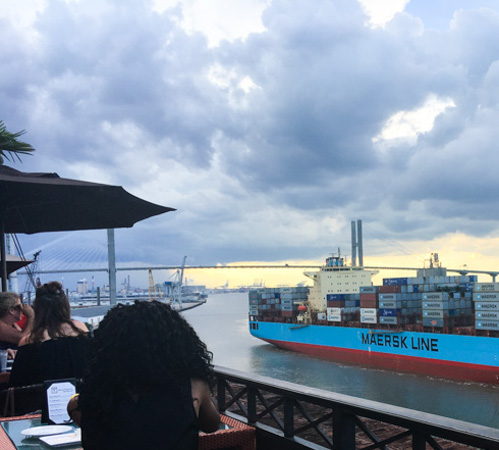 One of our favorite moments of the trip was sitting on this rooftop deck watching mammoth freighters inch their way down the Savannah River as the storm clouds moved in. A bit eerie and yet strangely mesmerizing to watch the sky suddenly change as the thunder echoed around us.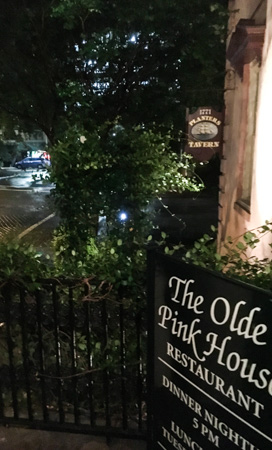 After our afternoon apps, we opted for a nap in our hotel room, followed by a late dinner at the historic Olde Pink House.
To be honest, the food wasn't our primary motivation in selecting this restaurant; instead, it was the house's legacy that drew us there. As the oldest surviving 18th century mansion in Savannah, it's also where the "Liberty Boys" of Revolutionary War fame plotted and where the Declaration of Independence was first read aloud in the city.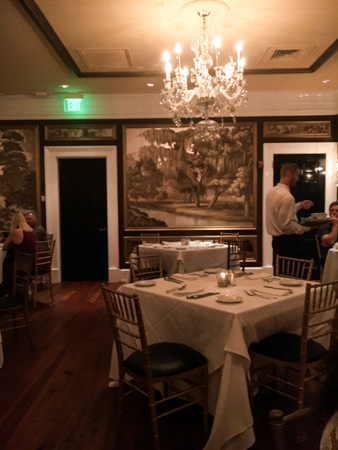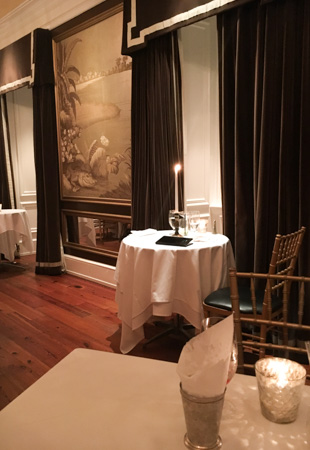 Our late-night reservation, and a full house, meant that the kitchen was out of several entrees (such as the pork chop that Mark had his eye on) by the time we ordered, but we did enjoy every bite of our meal…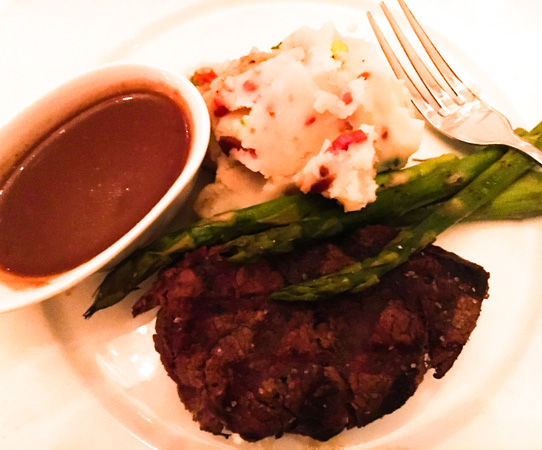 …including this filet mignon w/ bordelaise sauce, bacon buttermilk mashed potatoes, and asparagus.
We topped the meal off with a Southern specialty…a piece of warm pecan pie complete with a cinnamon pecan crust, dark chocolate, and an ample scoop of rich vanilla bean ice cream – so good!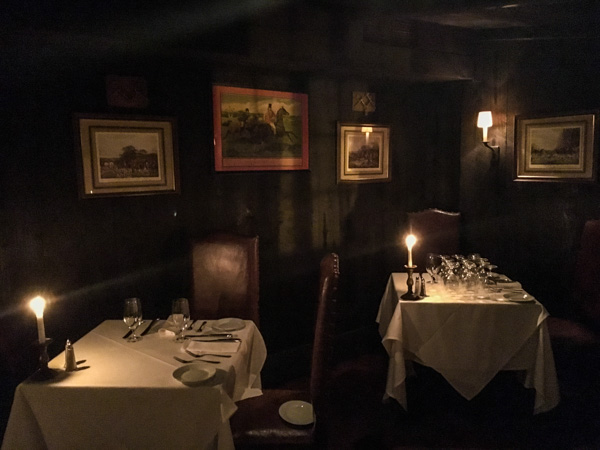 One of the highlights of a visit to The Olde Pink House is that the waiters will often take you on a tour of the mansion following your meal.
The restaurant is truly a maze – in addition to the main dining room there are several small, intimate candlelit rooms scattered throughout, and a popular and atmospheric basement bar – former site of a bank vault.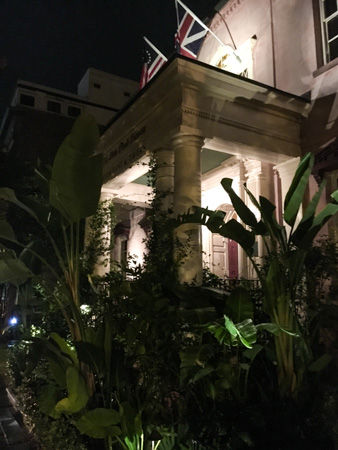 Leaving the restaurant, we were hit with a deluge of rain. Standing in the humid heat, watching the raindrops bounce off the cobblestone street, surrounded by the lush foliage of Savannah – one of those quintessential moments you never want to forget.
DAY FOUR: SAVANNAH TO ST. AUGUSTINE
After a late night out, we slept in again (getting to be a habit on this trip), and then needed to get on the road to Orlando.
However, Mark surprised me with a quick detour on our way out of town….to a place he knew I'd been hoping to visit.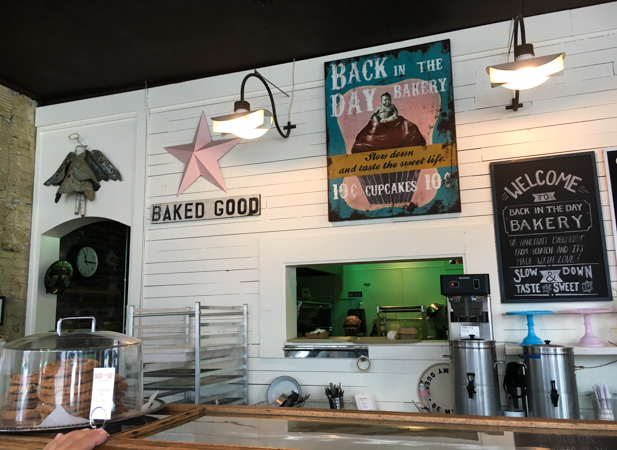 I've collected cookbooks for years, and of the 400+ in my collection, The Back in the Day Bakery Cookbook is one of my favorites; getting to see its namesake was an unexpected treat!
The interior of the bakery was just as I'd imagined – warm, rustic, and inviting, with vintage touches throughout.
Even in the late morning, it was crowded – a testament not just to its popularity, but to the high quality of its food.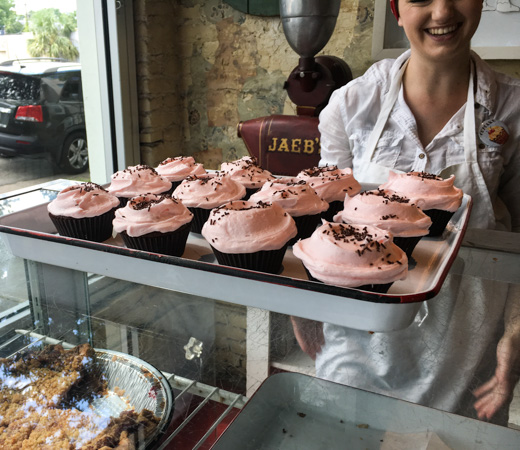 And, oh the food, so many choices!
Old-fashioned cupcakes…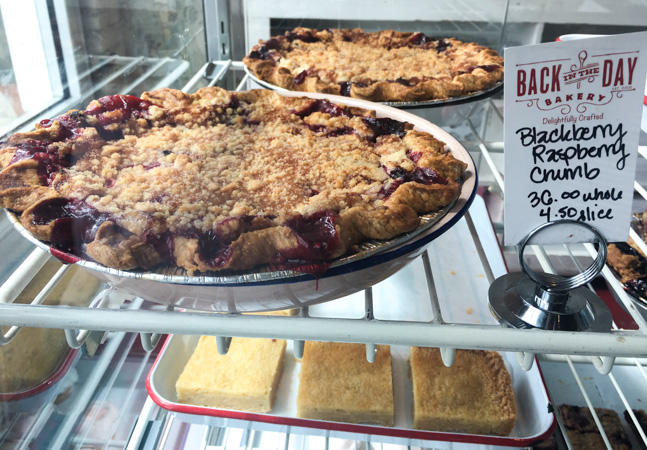 Pies fresh from the oven…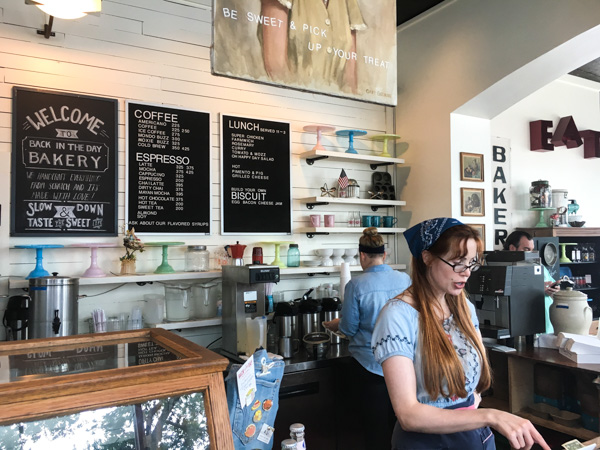 …and a mouthwatering lunch menu featuring a variety of sandwich and biscuit combinations.
After much deliberation, we ordered lunch to go: a grilled cheese with white cheddar and fontina; a chicken sandwich with roasted in-house chicken, herbed mayo, and white cheddar; and the best biscuit sandwich I've ever had in my life – topped with apple-smoked bacon, sharp cheddar, and strawberry jam.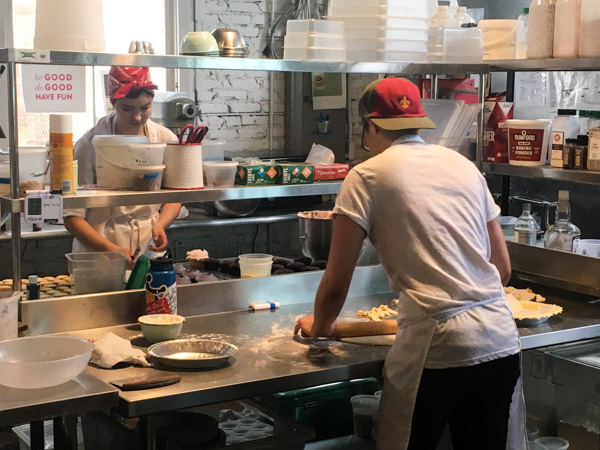 One of the highlights of a visit here is that you can also watch the staff working in the back room, and we were even able to catch a glimpse of bakery owner and cookbook author Cheryl Day working side by side with her team.
Was I a little "star struck?"  Uh, huh.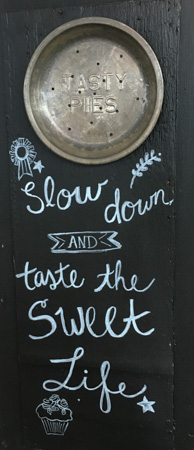 While we were waiting for our food, I enjoyed wandering through the bakery, taking note of the special touches that are everywhere. This sign caught my eye – especially fitting for a bakery steeped in nostalgia and the celebration of a simpler time, when life just seemed to move a little bit slower.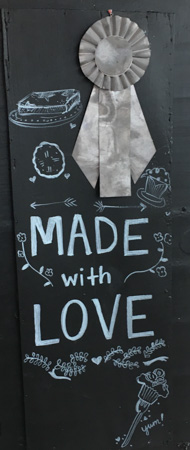 We walked out the door stocked with food for our drive to Orlando, including three chocolate chip cookies for "later" – which translated into "gone" within the hour.
What a fabulous stop…every bite memorable, delicious, and made with love.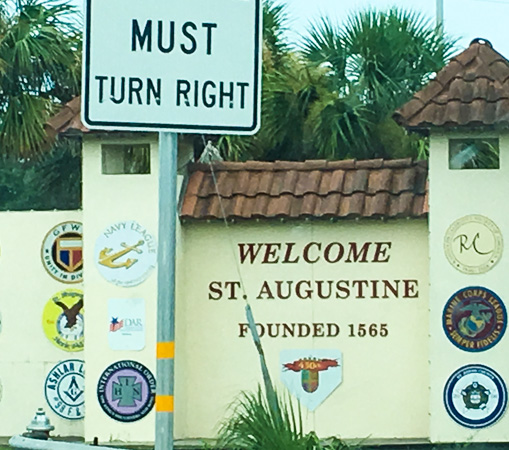 We needed to be in Orlando (the site of my upcoming writing conference) by four, so there was little time for any more detours along the way.
But St. Augustine lured us off the road…
Founded by the Spanish in 1565 and rich in history, it's the oldest European-established continually occupied city in the United States.
We drove through the downtown historic district, admiring the Spanish architecture and reflecting on its place in history, and then headed toward our primary destination…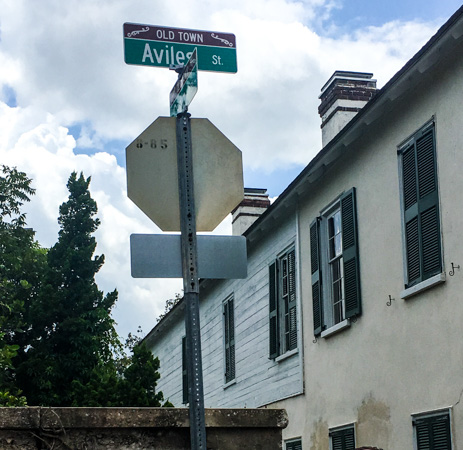 Aviles Street – the oldest street in America.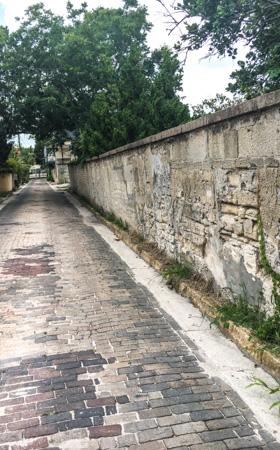 Bliss for a history buff!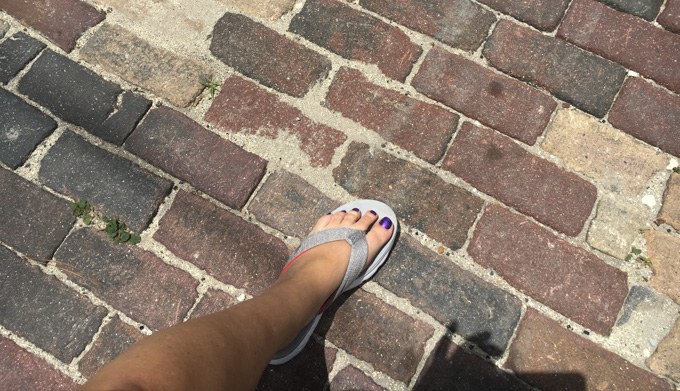 And finally,  I couldn't resist one last quick photo of my foot on this cobbled and historic path, before we were back on the road again.
As we traveled south down I-95, we reflected on how much we'd seen and done in the last four days. On all the small moments that make for such a memorable experience.
And I was reminded of J.R.R. Tolkien's words, "Little by little, one travels far."
---
To be continued…Disney World (coming soon)