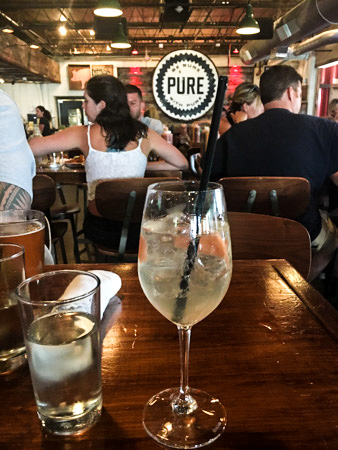 On the Road…Raleigh to Charleston
Just mention the words "road trip" and I'm all yours. Ever since I was a little girl, I've been fascinated by the lure of the open road, the adventure of the unknown, and the serendipitous moments to be found along the way.
This summer we were fortunate enough to take a quick jaunt through the South enroute to a one-week "working" vacation in Orlando, Florida. Four days on the road…a short trip, to be sure, but packed with noteworthy discoveries and new tastes along the way.
DAY ONE: Seattle to Raleigh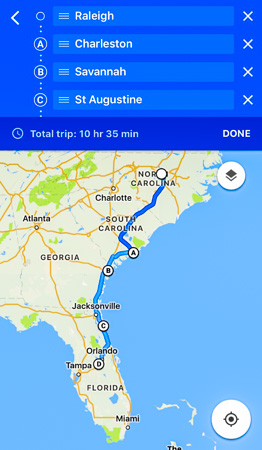 I've taken several road trips with my boyfriend Mark and his daughter, and they are without a doubt, my favorite people to travel with. I didn't think we could top last summer's road trip up the Pacific Coast from San Diego to Seattle, but this one turned out to be every bit as memorable.
It's hard for me to plan a "quick" trip – as I'm constantly finding new places I want to visit, but after much discussion, we decided to fly into Raleigh to pick up Mark's daughter, and then hit Charleston, Savannah, and St. Augustine on our way to Orlando.
No time to explore any of the destinations in detail, but enough time to get a taste of each.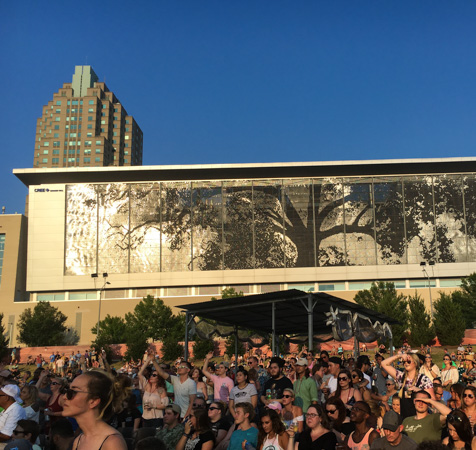 Our original intention was to drive straight to Charleston – a culinary hotspot and a city I've wanted to visit for years. But one of the joys of a road trip is that you can always change it up.
When we learned that one of Mark's favorite reggae bands, Rebelution, was playing at Raleigh's Red Rocks Ampitheatre the night of our arrival, we decided to spend that first night in downtown North Carolina.
After landing, we drove straight to the Raleigh Downtown Marriott (a central location and easy walking distance to the concert grounds) and then headed straight over to Red Rocks Ampitheatre.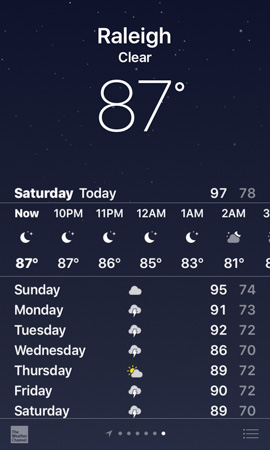 I haven't spent much time in the South in the summer, so the high humidity and temperature, even at ten at night, were a bit of a surprise…but after an extremely soggy Northwest spring, a welcome one!
And what a fabulous setting it was – a stunning outdoor venue made even better by the friendliness and positive energy of the crowd.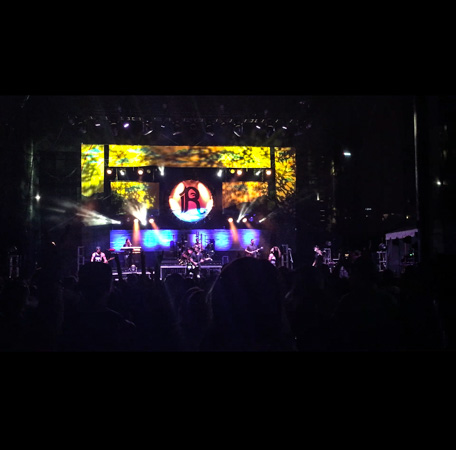 Last summer the three of us saw Rebelution play at Marymoor Park in Washington,  along with another favorite J Boog. While I have to admit to being more of a country music fan, I developed a newfound appreciate for reggae after listening to both talented artists perform live.
And this summer's "Good Vibes" tour was equally impressive.
Swaying in the humid hot summer air to the sounds of "Safe and Sound,"  "Ordinary Girl," and my personal favorite "Courage to Grow" – I felt the stress of the last few weeks slowly ease away and the pleasures of life on the road begin to settle in.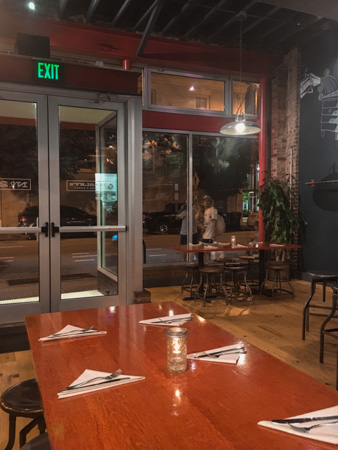 While the show and drinks were top notch, the concert food (i.e. nachos with "cheese" sauce) did leave a bit to be desired, and we were beyond hungry following the show.
The BBQ restaurant we had originally planned on visiting was closed by the time the concert ended, so Mark did a little research and we ended up meandering down Fayetteville Street – trying to find a "chicken and waffles" restaurant that he'd pulled up on his phone.
And did he ever find a good one!
It's those "serendipitous moments" that often make a trip – and Mark leading us to the front door of Beasley's Chicken + Waffles definitely fit the bill.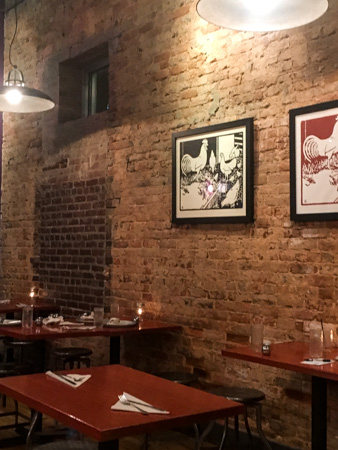 At the time, we had no idea that it was owned by Ashley Christensen, an acclaimed North Carolina chef, winner of the James Beard Award for Best Chef Southeast in 2014, and a former contestant on Food Network's Iron Chef series.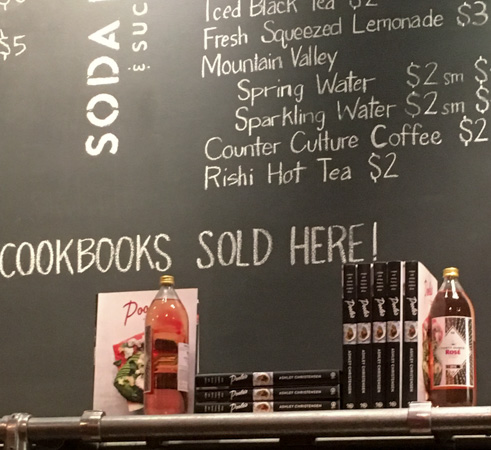 Not to mention the author of one of my favorite cookbook's – Poole's: Recipes and Stories from a Modern Diner.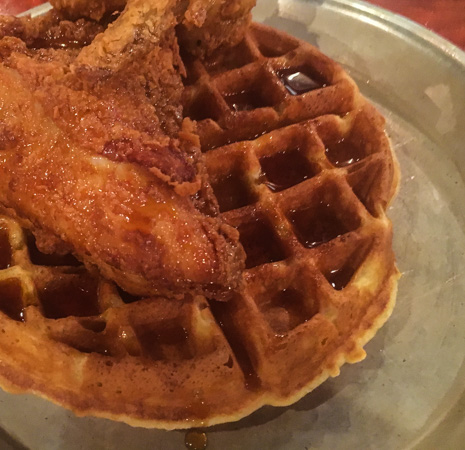 Self-described as an ode to "fried chicken and classic Southern sides" Beasley's did not disappoint. We ordered up a slew of food to share, including a Caesar salad, sautéed local squash with sweet onions, and a Nashville hot chicken sandwich.
But the absolute star of the show was Beasley's chicken and waffles. Thick buttermilk waffles topped with tender fried chicken and an ample serving of rich maple syrup.
Savory meet sweet…simply brilliant.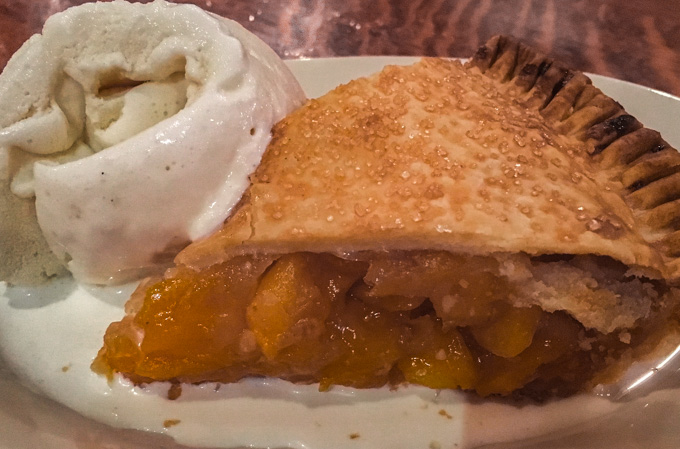 Truth be told – I don't usually order dessert when I go out to eat…unless I'm with Mark. There's always that post-meal moment, when the waiter asks if we'd like to see the dessert menu, and our answer is often that we'll just "take a look" – followed by the requisite "should we" debate, and then the inevitable  arrival of an indulgent treat to top off our meal.
And on this leg of our trip, we continued that tradition.
Peach pie a la mode at midnight in a top-notch Southern restaurant – perfection.
DAY TWO: Raleigh to Charleston
After a late night out, we slept in (bliss!), grabbed a late breakfast at the hotel, and headed down I-96 for the four-hour drive to Charleston.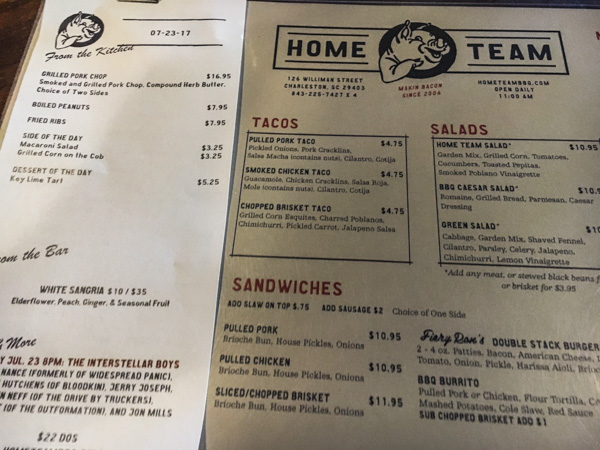 I'd done a good bit of "food research" prior to this trip, and there were several classic Southern dishes on my "must try" list.
BBQ being an essential!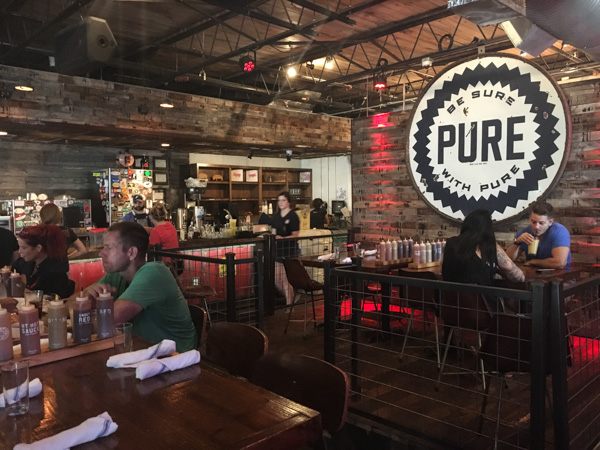 We rolled into Charleston in the late afternoon and headed straight for Fiery Ron's Home Team BBQ, highly recommended by a variety of online sites, as well as a local we had met on the flight from Seattle.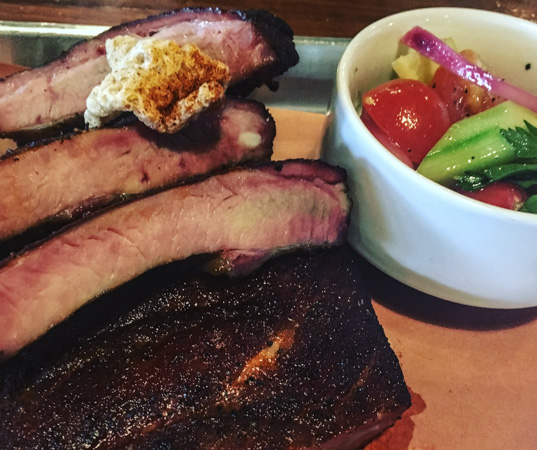 Mark ordered a half-rack of St. Louis cut ribs accompanied by a fresh cucumber and tomato salad.
Meaty, tender, and topped off with a spicy sauce – these ribs definitely satisfied our BBQ cravings.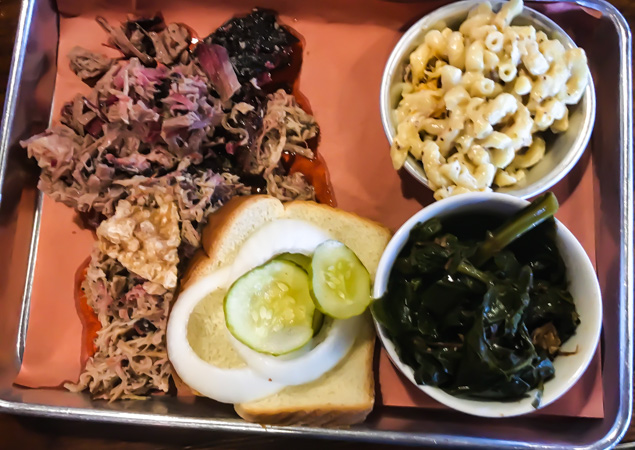 I like variety, and the combo platter with pulled pork and chopped brisket was an excellent choice. Accompanied by collard greens, mac and cheese, white bread, onion, and house pickles, this meal was a welcome first taste of Charleston.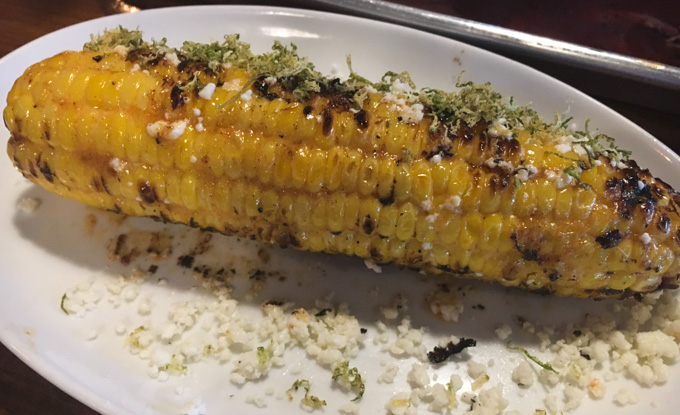 I always enjoy trying "daily specials" and especially ordering something that's a little different.
Roasted corn topped with lime zest and cojita cheese – a modern twist on the traditional corn on the cob, and a fun side dish to accompany our meal.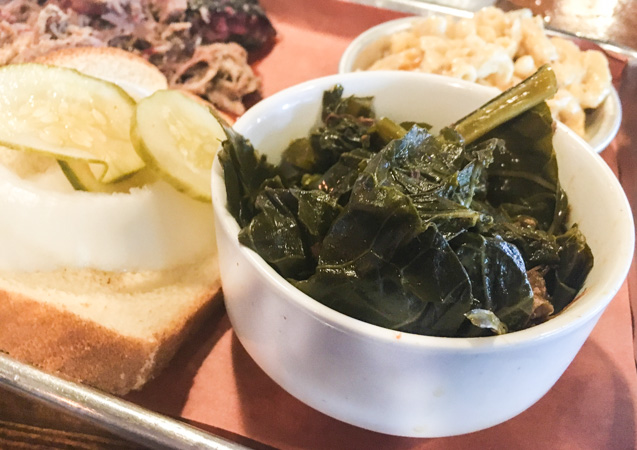 True confessions – this was the first time I've ever tried collard greens…and I absolutely loved them. In fact, they were in contention for my favorite part of the meal.
Packed with savory bacon, tangy vinegar, and healthy greens – and oh so good!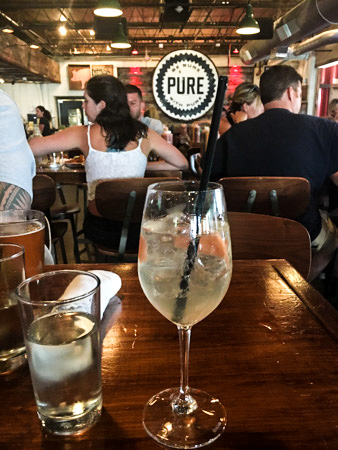 This white sangria cocktail was also one of the daily specials, and the combination of elderflower, peach, ginger, and seasonal fruit was both refreshing and an ideal accompaniment to the spicy meal.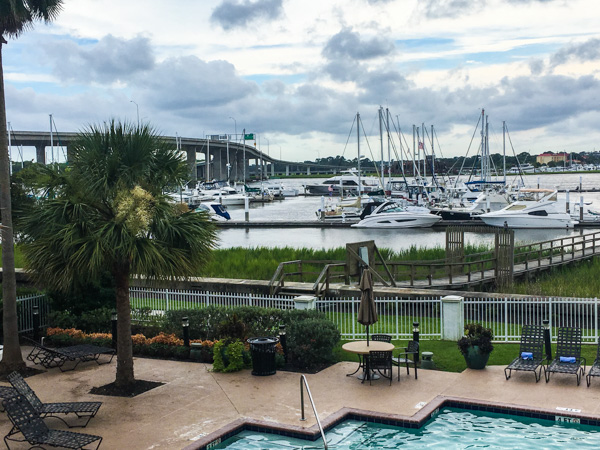 Following our A+ BBQ experience, we checked into the Marriott Charleston Waterfront, an inviting hotel with a beautiful view overlooking the Ashley River.
So full and yet excited to see Charleston, we dropped our bags and set out to take an early evening drive through the city.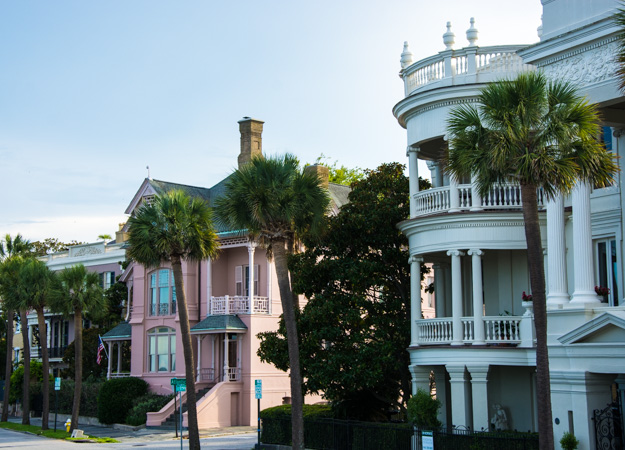 We headed down The Battery, a historic road that hugs the Cooper River and provides a close-up view of the many historic mansions lining the route. Ducking the intermittent rain and thunder, we ventured out onto the promenade that fronts the water and took in the sweeping views of Charleston Harbor, Fort Sumter (famous as the site where the opening shots of the Civil War were fired), and Sullivan's Island.
Continuing on, we explored some of Charleston's most well-known sites: White Point Garden, The French Quarter, Old City Market, and Rainbow Row.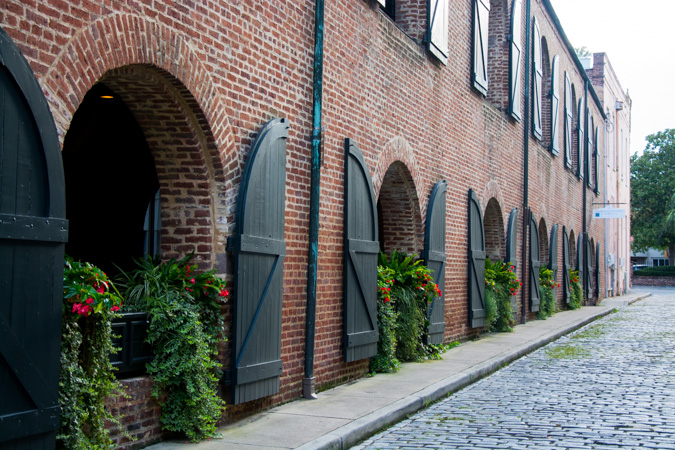 One of many qualities I appreciate about Mark is his willingness to get off the beaten path and to explore the "road less traveled."
Thunderstorms surging through the region made it a little challenging to get out and walk, but he drove us all over the city center, exploring side streets, and making his way down narrow alleys, intent on giving us a first-hand view of this city that I've always wanted to visit.
And what I saw just confirmed what I've always thought – Charleston is a special place.
It's a city that I'll absolutely go back and explore in more depth– a city made for walking, with incredible architecture, hidden gardens that offer a tempting glimpse of the beauty within, and a sense of civic pride that resonates throughout.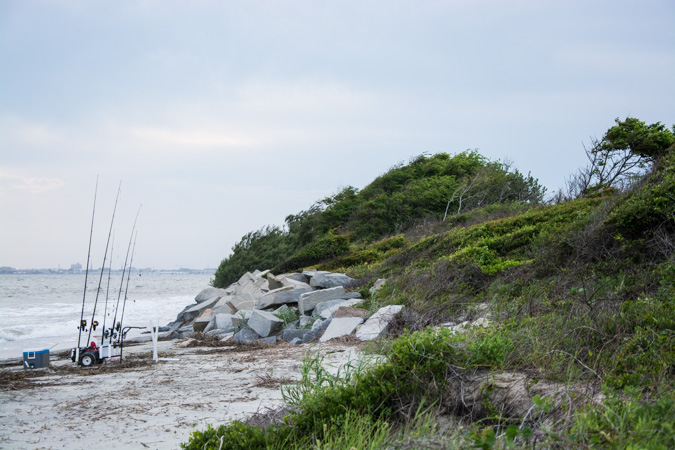 I'd spent a good amount of time reading about the many islands off the coasts of South Carolina and Georgia, but with our limited time, knew that we probably wouldn't be able to visit one on this trip.
However, as we drove north of downtown, and realized how close we were to Sullivan's Island, we decided to cross the Cooper River, via the impressive cable-stayed Arthur Ravenel Jr. Bridge, and head out to the island.
As a fan of Dorothea Benton Frank's novels, many of which are set in South Carolina's Lowcountry, Sullivan's Island is a place that I've always wanted to see in person.
Driving through the island, I was struck by how it felt like a world apart – a quiet, relaxed vibe permeated the early evening, complete with the constant song of the cicadas that added to the ambiance, and created the sense that, yes indeed, we were very far from home.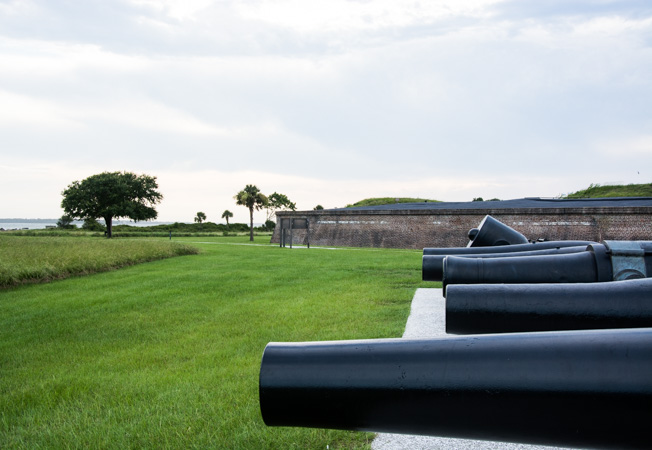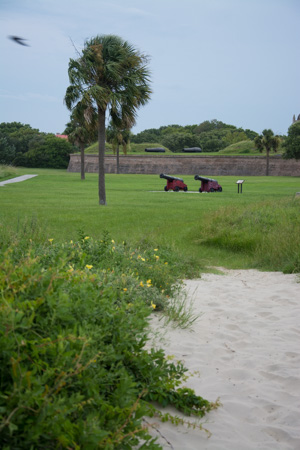 Surprisingly, Fort Moultrie, at the southwestern end of the Sullivan's Island, was open late and we were able to wander through the park as dusk began to settle over the island.
Mark and I both love history, and this fort is rife with historical significance. Built as a series of fortifications to protect Charleston, it earned fame during the 1976 Battle of Fort Sullivan when the American forces were able to successfully repel a British invasion, and it also played a prominent role during the Civil War.
Walking throughout the fort, reading the plaques, thinking about its place in history… it truly felt as though we were stepping back in time.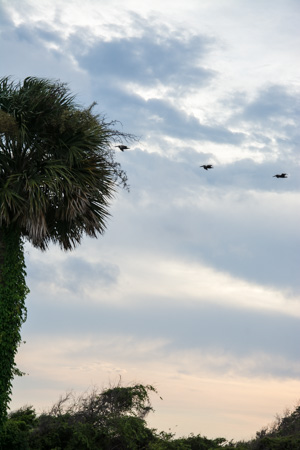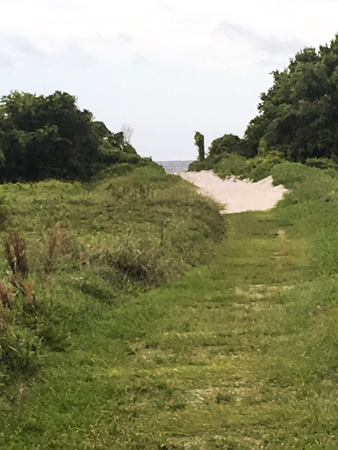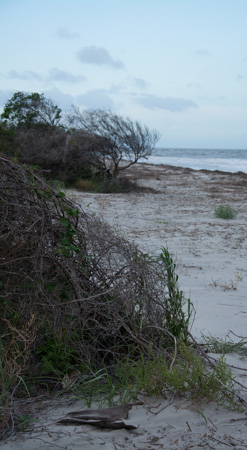 There's nothing better than walking along a beach…taking in new sights, watching the waves crash against the shore, feeling the wind coming off the water, and experiencing all that makes a coast unique.
Palm trees, pelicans, sand dunes, seagrass, and a sweeping view of Charleston in the far distance. A magical experience.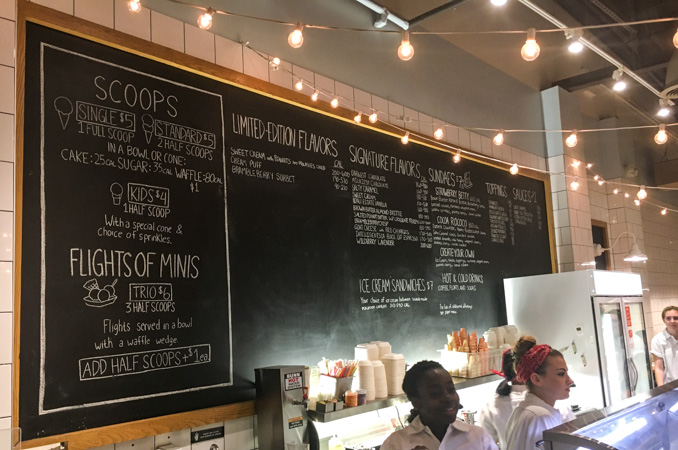 Heading back from Sullivan's Island, dessert was on our mind.
A few months ago, I followed a link from one of my favorite bloggers, Jessica Merchant of How Sweet Eats to Jeni's Splendid Ice Cream. When I realized, there was a branch of this popular ice cream store in Charleston, I seriously hoped we'd have time to stop by.
Miraculously, we found parking on crowded King Street, and headed into the shop for a late-night ice cream splurge.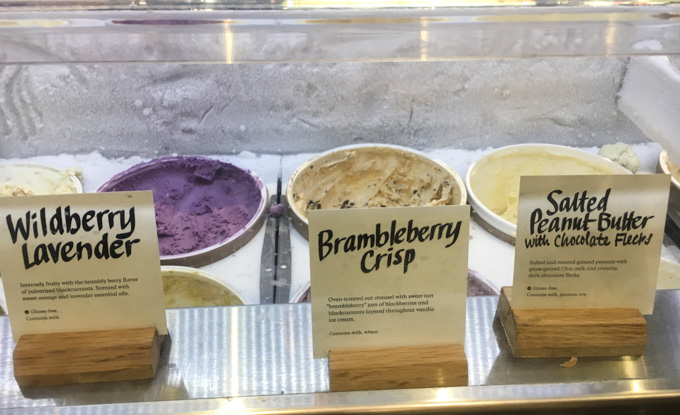 Jeni is known for her creative flavors,  and right off the bat I spotted the salted peanut butter with chocolate flakes that Jessica had recommended, along with another flavor that I knew I had to try…brambleberry crisp.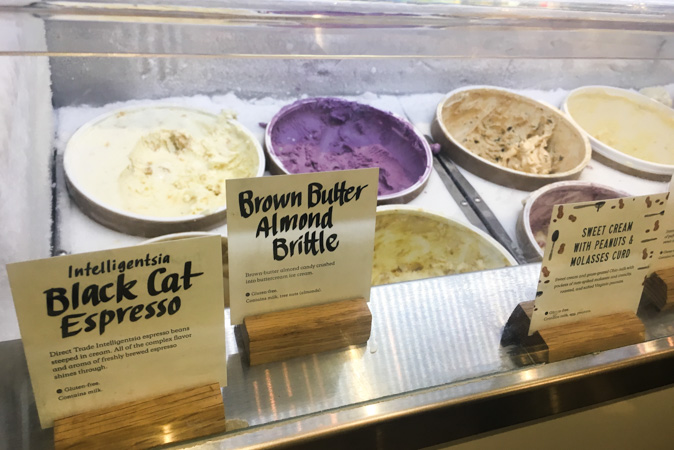 And then there was the brown butter almond brittle. So many choices…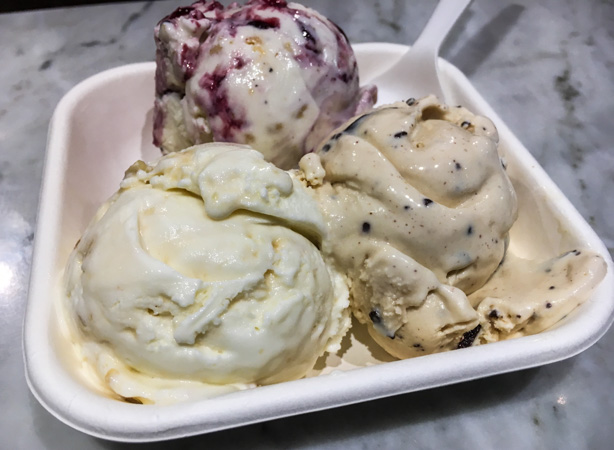 …so I tried all three!
I tend to have a hard time picking just one flavor, so this flight trio was right up my alley. In the heat, the ice cream melted fast, but was it ever good!
Jeni's offers mail order delivery as well, and I will definitely be looking forward to a package arriving on my doorstep in the very near future.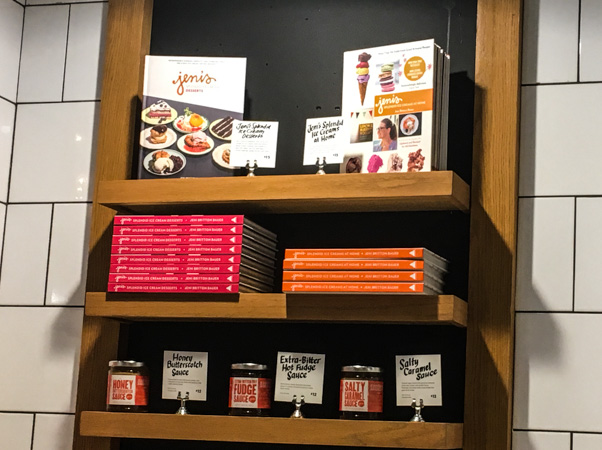 And of course…there's always another cookbook to add to my collection.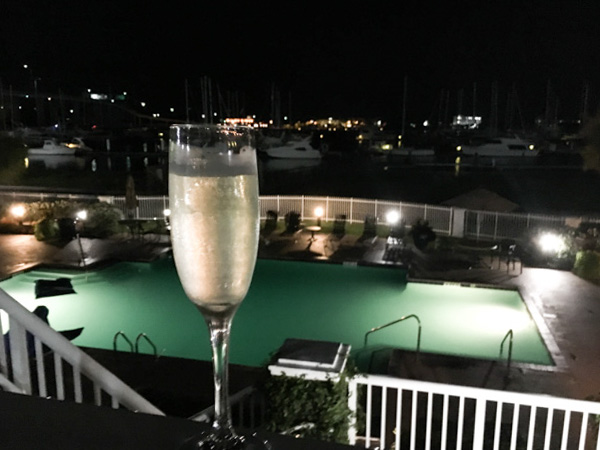 We ended the night with a glass of champagne on the hotel terrace, reflecting on our first two days.
So many special moments…swaying in sync with the music on a hot summer night, savoring waffles and chickens at midnight, exploring historic Charleston, venturing down back streets, peeking into hidden gardens, walking barefoot through the sand, splurging on artisan ice cream, spending time with loved ones.
And most of all, feeling grateful and blessed.
---
To be continued…check out Southern Bites Part Two