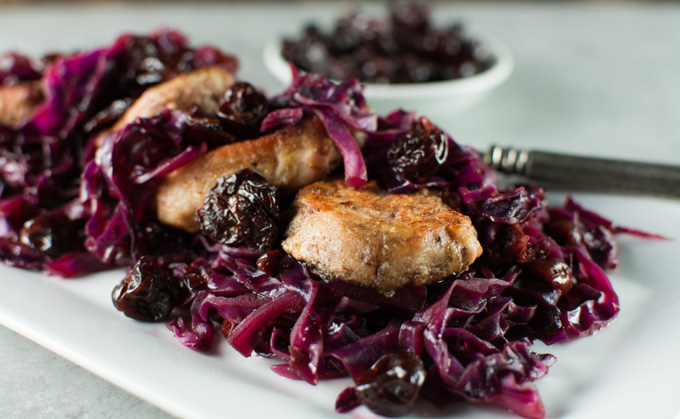 Balance
Although I aspire for "balance" – both in the food I eat and in my life – at times I struggle, as I tend to lean more toward the "all or nothing" side of the fence.
So, I was especially drawn to this week's cookbook and to author Ellie Krieger's "usually-sometimes-rarely food philosophy" and her golden rule that "no food is ever off limits."  In the introduction to Weeknight Wonders, Ellie writes, "The idea is that there is no need to deprive yourself or go to extremes to be healthy. In fact, extremes are usually unhealthy and trap us into a dieting mentality. Rather, balance is key."
I enjoyed preparing meals from her cookbook this week, and of taking on the new challenge of preparing healthy dinners on a busy weeknight.  As Albert Einstein said, "To keep your balance, you must keep moving."
Good advice – whether "moving forward" means taking on a challenge, doing things differently, or simply trying out new recipes.
Here is this week's Taste Five.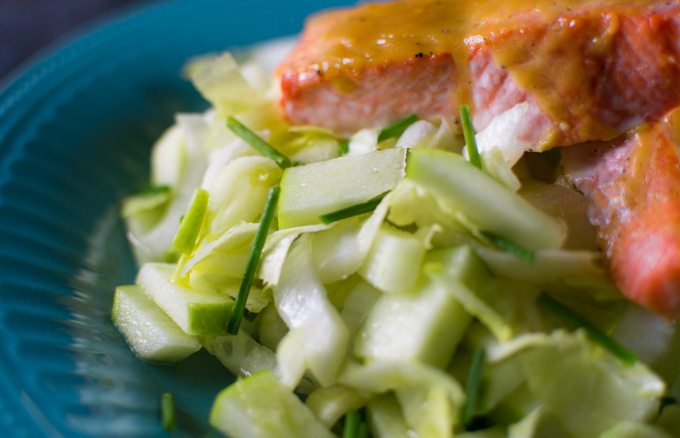 Honey-Mustard Glazed Salmon with Endive and Green Apple
Wild king salmon – my splurge for the week – and worth every penny. Growing up on an island in the Pacific Northwest, salmon was frequently on our family's dinner menu. A highlight of my summers was spending days on our boat fishing off the waters of the San Juan Islands…lounging in the hot sun, snacking on the picnic food my mom had prepared, enjoying the peaceful calm – broken up by the occasional fish on a line. Back on shore, my dad would prepare his renowned barbecued salmon, served up with a side of boiled corn and garlic bread.  It wasn't until I was an adult that I realized just how special those moments and those meals were.
The honey mustard glaze on this salmon recipe, one of my favorite flavor combinations, was a hit, and I'll be using this simple technique again.  Paired with the endive and green salad salad, the salmon was a healthy and delicious meal for a busy weeknight.
This was my first time eating endive, and I have to admit, that when I first tasted it, I was surprised by its bitterness; however, when combined with the sweetness of the apple, the acidity of the lemon, and the kick of the chives, it was a refreshing and light dish that perfectly complemented the richness of the salmon.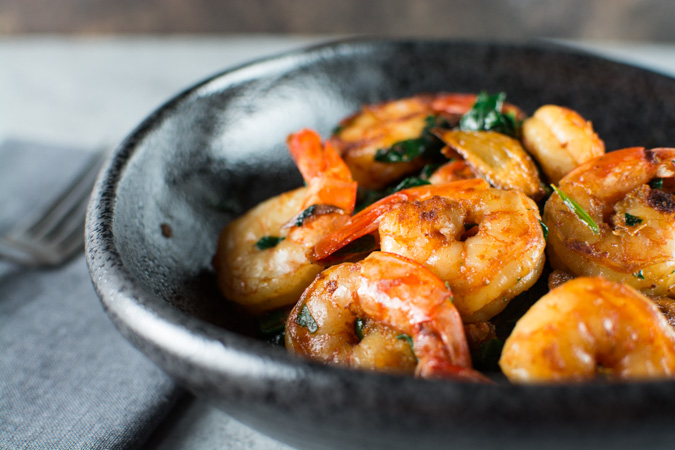 Shrimp with Spinach, Garlic, and Smoked Paprika
A surprise, a bit unusual, and a total winner. At first, I wasn't sure about this recipe, especially the inclusion of smoked sweet paprika, which isn't something I've cooked with before. The strong scent of the spice was a little overpowering when I initially encountered it, and I wasn't sure that I was going to like the end result. But it's always fun to try something new, and this recipe became one of my favorites of the year.
I love prawns, in all their many preparations…served cold with a spicy cocktail sauce, sautéed with butter and white wine, lightly fried in a tempura batter.  But combined with the wilted spinach, the caramelized garlic, and the sweet smokiness of the paprika, these prawns were absolutely exquisite. Frying the garlic slices in olive oil until golden, was a new technique for me, and it truly transformed this shrimp recipe into something special.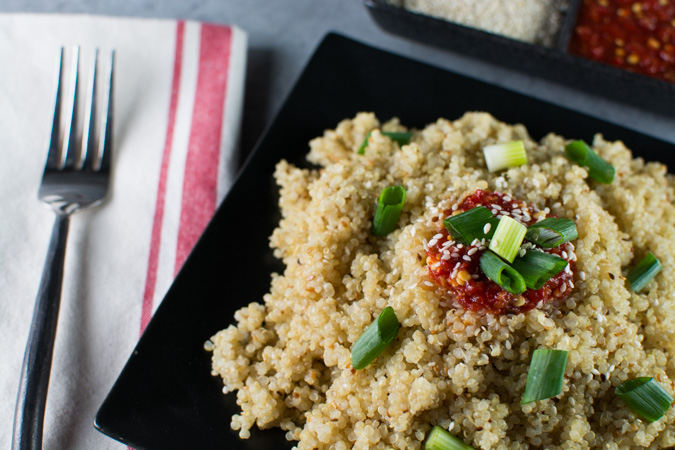 Sesame Quinoa
This was only my second time making quinoa (and I burnt my first attempt last year), but this recipe has earned a solid place on my "keeper list." I love having a healthy grain to serve with an entrée and this quinoa fits the bill. The combination of toasted sesame seeds, sesame oil, and chicken broth, gave the quinoa a nutty flavor that elevated it beyond a simple grain. Served with a little sambal oelek (chili paste) on top, it was the perfect complement to my shrimp entrée.  Easy, delicious, and healthy – you can't beat that.

Pork Tenderloin with Sweet-and-Sour Red Cabbage and Dried Cherries
I first experienced pork schnitzel and braised red cabbage cooked "Viennese" style while on a solo backpacking trip through Germany and Austria, and this recipe reminded me of that European adventure. A sweet and sour flavor combination is one of my favorites, and I was excited to try this dish.
The pork tenderloin is prepared simply with an emphasis on preserving its pure flavor, sliced into medallions, coated in flour, and fried quickly in oil…a nice complement to the "star of the show" – the sweet and sour cabbage. Cutting the beautiful red cabbage – more of a purple in its raw state – and then watching it slowly cook down, was a sensory pleasure in itself.  The honey, the vinegar, and the dried cherries elevated it to an entirely new level…resulting in a rich and flavorful dish – entirely reminiscent of those days spent exploring the cities and restaurants of Central Europe.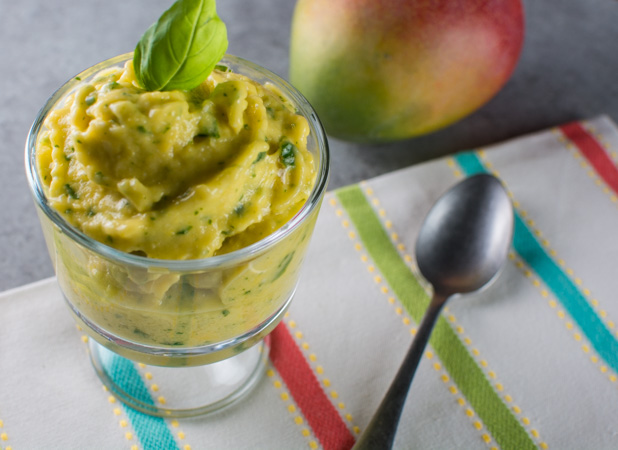 Two-Minute Mango-Coconut Sorbet
Mango and coconut – one of my favorite flavor combinations – and a welcome taste of the tropics during a gray Seattle winter. The addition of fresh basil in this recipe initially sounded a little bizarre, but along with the sweetness of the honey, it added a nice touch to this light, refreshing dessert.
Easy to prepare and a versatile recipe, I'm looking forward to trying this same technique with other fruits and herbs from my garden this summer…maybe raspberries with lemon verbena or blueberries with mint.  Four ingredients, two-minutes, and a tasty dessert on the table…yes, please.
 
Nourishment 
As a writer and teacher, I know the importance of "filling the well" – of nourishing the mind, body, and soul – of taking the time to replenish and re-energize.
We each have different ways of nourishing ourselves. For me, it's taking a "time out" from a busy schedule to enjoy the simple pleasures that surround us.
Driving along a country road, the radio tuned to The Highway, and enjoying the gentle rhythm of the truck humming along.  Wandering through a nursery, discovering new plants, and dreaming of this summer's garden. Trying out a new restaurant, sipping on a craft cocktail, and catching up with an old friend.
And, I would add…preparing a delicious home-cooked meal on a busy weeknight.
I absolutely loved this week's cookbook, Weeknight Wonders, and will return to it again in the future. Every recipe I prepared was flavorful and healthy, and I look forward to trying Ellie's new cookbook You Have It Made as well. There's an authenticity to her recipes, and to her as well…she even took the time to respond personally to my Instagram posts – a much-appreciated gesture of caring from a busy professional.
In my last post, I wrote about the challenges of cooking weeknight dinners, but as I tackled them this week, I found that it gave me something to look forward to each night, and that the time spent in the kitchen paid off in a myriad of ways. At the end of the week I felt healthier, more energized, and more satisfied.
As Hippocrates famously said, "Let food be thy medicine, and medicine thy food." But the payoffs went beyond simply nourishing my body.  I found myself feeling healthier spiritually and mentally as well.
Shopping each day and taking the time to interact with the people at my local market. Prepping the ingredients and slowing down to enjoy the beauty of the food as well as the process. Sitting down at the table and enjoying each bite of the meal.
Truly, nourishment for the soul, as well as the body.