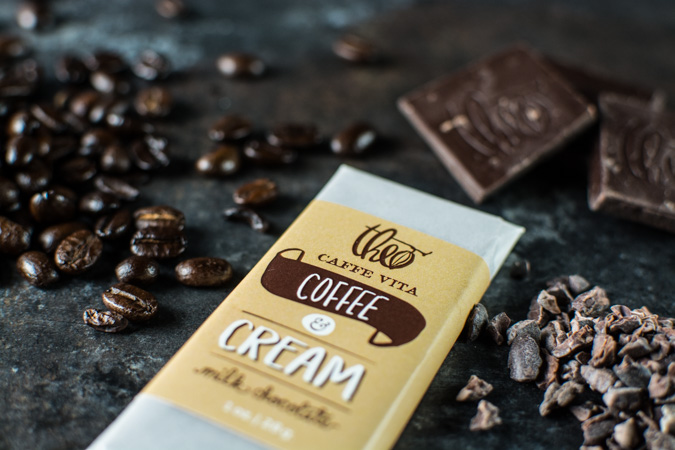 Chocolate 
I have loved chocolate for as long as I can remember, and while my tastes have changed a bit since I was a kid, my love for chocolate hasn't. While I still enjoy my childhood favorite – the classic Reese's peanut butter cup –it's been fun expanding my horizons, and so many of my favorite food memories seem to include chocolate.
Popping into Rococo Chocolates off King's Road in Chelsea, London and entering an entirely new world of taste. Sitting in a hotel room overlooking La Grand Place in Brussels and nibbling on my first "real" Belgian chocolates. Discovering Fran's gray salt chocolates when I moved back to Seattle.
And now Theo Chocolate.
I enjoyed cooking from Theo Chocolate – last week's "cookbook of the week" – immersing myself in the world of chocolate and learning far more than I had expected – a fun way to celebrate Valentine's week.
As Peanuts cartoonist Charles M. Schulz stated, "All you need is love. But a little chocolate now and then doesn't hurt."
Here is this week's Taste Five.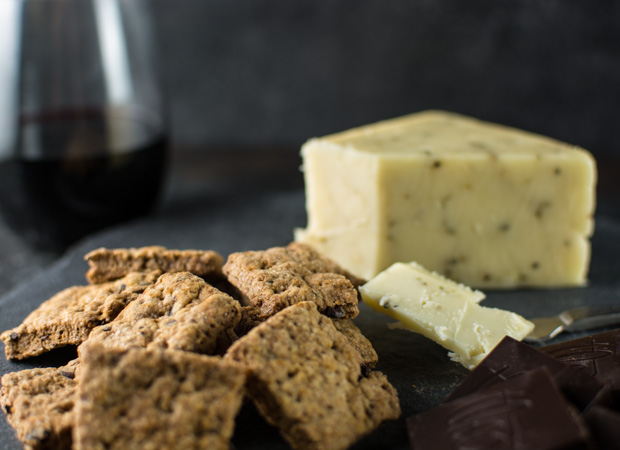 Nibby Crackers
Crackers, cheese, dark chocolate, and a little red wine…yes, please.
This is actually the first time I've made crackers at home – and I will definitely be trying more in the future. They were incredibly easy to make and had a unique flavor profile – sweet, spicy, and with a hint of chocolate – owing to the inclusion of red wine, ancho chile powder, and cocoa nibs.
There is a wonderful section in the cookbook on pairing chocolate with cheese, and per the authors' recommendation, I served these nibby crackers with Beecher's Marco Polo – a creamy white cheese studded with green and black peppercorns. I love Beecher's cheeses – their Flagship cheese is one of my all-time favorites – and I always stop by their shop when I'm visiting Seattle's Pike Place Market, to stand in front of the large glass window and watch them making their handcrafted cheese.
Accompanied with Theo's salted dark chocolate and a glass of cabernet sauvignon, this was a unique and tasty combination.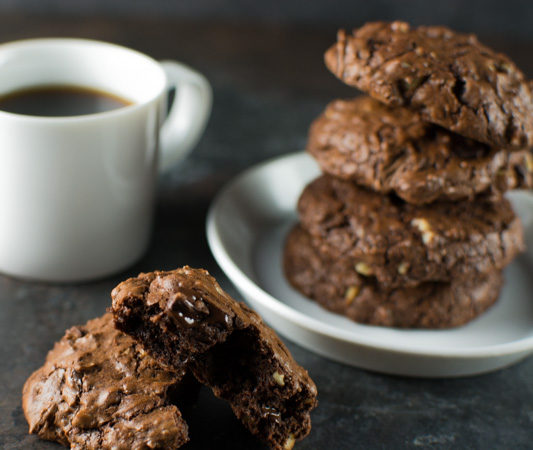 Gooey Double Chocolate Mocha Cookies
A mocha is always my "go to" drink when I want to splurge a little, and this rich, dark cookie reminds me of that beverage. The recipe calls for Theo's 70% dark chocolate, and the addition of toasted walnuts and finely ground coffee beans adds to the complexity of flavor. I used Equal Exchange's "Love Buzz" coffee beans – especially appropriate for Valentine's Week – with a flavor profile the company describes as bold and intense with notes of toasted marshmallows, molasses, browning sugar, and walnuts.
This cookie has a lighter, mousse-like texture, with a crackly exterior and a soft chocolate-chunk filled interior. From the first bite it surprises you with its intense bold notes – and you can taste both the quality and richness of the chocolate. This gooey double chocolate mocha cookie recipe, a winner of the CNN Fair Trade Chocolate Challenge, blew me away – and truly has that "wow factor."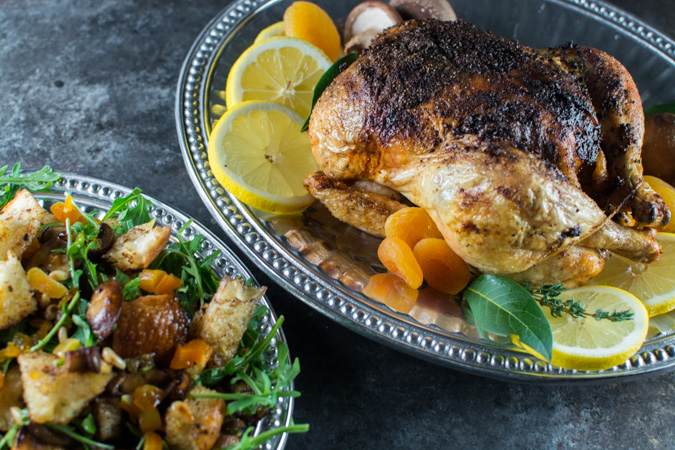 Tom Douglas's Roast Chicken and Wild Mushroom Warm Bread Salad with Cocoa Nibs
True confession time – I have never roasted a chicken before. I have to admit that I've been a little squeamish and a bit intimidated by the entire process, preferring to buy neatly packaged parts that are a little simpler to handle. But this recipe changed my mind.
I'm a huge fan of Tom Douglas, a widely-known food aficionado and restaurateur in the Seattle area, and his food is always fabulous. So, I was excited to dive into this chicken recipe…even though it required stepping a little out of my comfort zone. I pulled out my roasting rack, and got to work preparing the chicken – gently smoothing a mix of butter, ground cocoa nibs, and ancho chili pepper under the skin, and then tucking lemon, thyme, and cocoa nibs into the cavity.
I was anxious throughout the roasting time, but it turned out perfectly. While the chicken was delicious – moist and infused with the warm earthiness of the cocoa nibs – it was the bread salad that truly made this recipe special.
I purchased a loaf of The Essential Baking Company's Fremont Sourdough, a shout-out to my old neighborhood of Fremont which is also home to Theo Chocolate, and it was fabulous in this salad.  After grilling the sourdough with a light coating of olive oil, you add toasted pine nuts and dried apricots to the bread. As soon as the chicken is done, you remove it from the pan, and put a mix of wild mushrooms in that same pan to roast until caramelized. Then you add the hot mushrooms to the bread mix, toss with a bit of arugula and a simple red-wine vinaigrette, and top it off with cocoa nibs and the warm roasted chicken.
A perfect Sunday afternoon meal – and out of this world.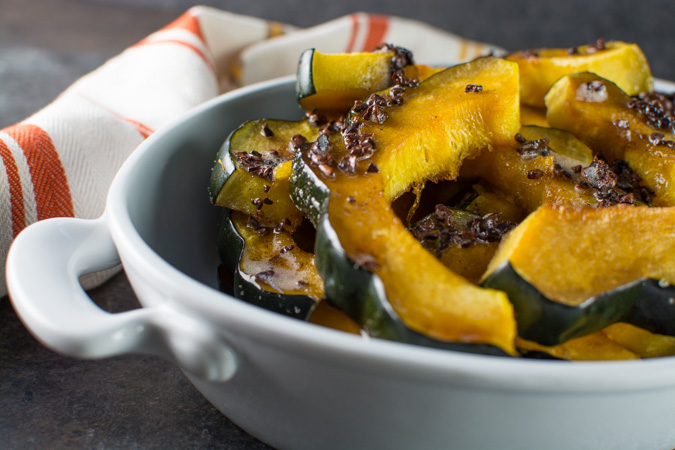 Roasted Squash with Brown Butter Nibs
Squash is one of my favorite winter vegetables, and this recipe took it to a whole new level. I used a large acorn squash, but you could use any winter squash such as delicata, butternut, or kabocha. The first stages of the recipe are fairly traditional – rub the squash with olive oil, sprinkle a little brown sugar on top, and roast it at 400 degrees until soft.
But it was the next step that really made the dish – browning butter, adding cocoa nibs to the butter, and then drizzling it over the top of the squash.
This is a simple, satisfying side dish, and perfectly complemented the roasted chicken and bread salad. The soft texture of the squash, the caramelized brown sugar, the nutty crunch of the cocoa nibs  – this roasted squash with brown butter nibs recipe is a keeper.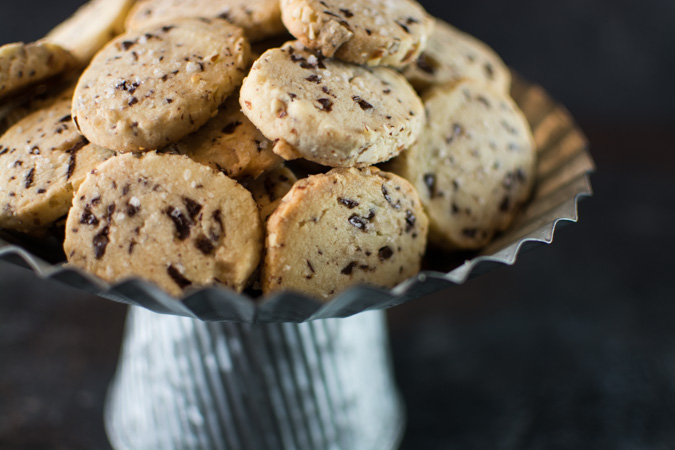 Almond-Olive Oil Sablé Cookies with Chocolate
I had to look up what a sablé is when I first came across this recipe…and I learned that it's simply a French round shortbread. The Theo authors describe this cookie as similar to their salted chocolate almond bar – a flavor profile that I love, and I was excited to give this one a try.
The ingredients are a bit unique – almond meal and cake flour, olive oil and butter, and confectioner's sugar – resulting in a delicate and crumbly cookie. The addition of finely chopped dark chocolate, roasted almonds, and a fleur de sel topping, transform it beyond a traditional shortbread – truly a sublime treat.
The recipe isn't included on Theo's website, but I did a little searching and found a few other sablé cookies that I'd like to try in the future… including Fine Cooking's vanilla bean sablé cookies or David Lebovitz's French salted butter cookies – and I will definitely be making this one again as well.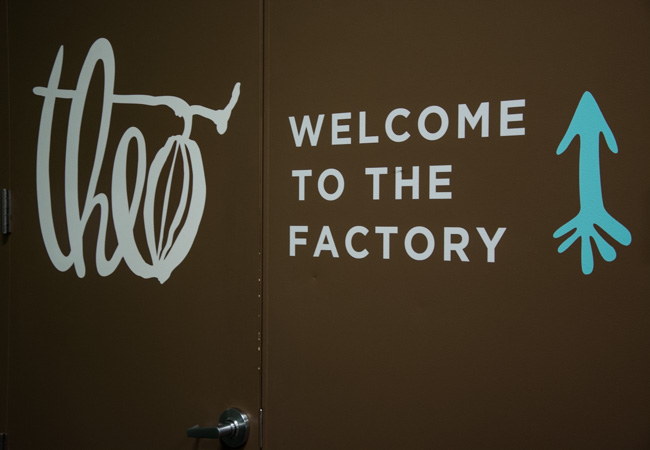 Making a Difference
Last week included, not only Valentine's Day, but also Random Acts of Kindness Day.
Each year, during Random Acts of Kindness week, I do an activity with my class. I give the students a day off from their English homework, but I also give them a simple request: to take that time, when they would normally be working on their homework, to practice a random act of kindness…to do something kind for someone else.
At the end of the week, we sit in a circle on our classroom floor, discussing the results  – and the answers are always so touching as they share with pride what they did for others. Making dinner for a busy parent, spending time playing with a younger sibling, helping out a neighbor, calling an elderly relative, telling a friend how much they're appreciated.
It's an important reminder that, even though we may feel powerless at times when our world can feel so complicated or overwhelming – simple acts can and do make a difference.
As I worked my way through these recipes this week, I was conscious of making more deliberate choices about the food that I buy and eat – of purchasing from companies that support sustainability and Fair Trade, of selecting food that is produced in an ethical and humane manner – and of making a difference via those choices.
Theo Chocolate Company is one of those organizations that it feels good to recommend and support. I love these words posted on their website – and it perfectly encapsulates what I most admire about this company.
We are all connected. We touch one another's lives in incredible ways. And we are responsible to and for one another. From the cacao farmer in the Congo, to the truck driver in Seattle, to the chocolate lover in Philadelphia, there is a thread that runs through us all. Theo believes in celebrating those connections, in strengthening them and in finding inspiration within them—inspiration to change the world. 
A beautiful message, not just for Valentine's Day – but for every day.