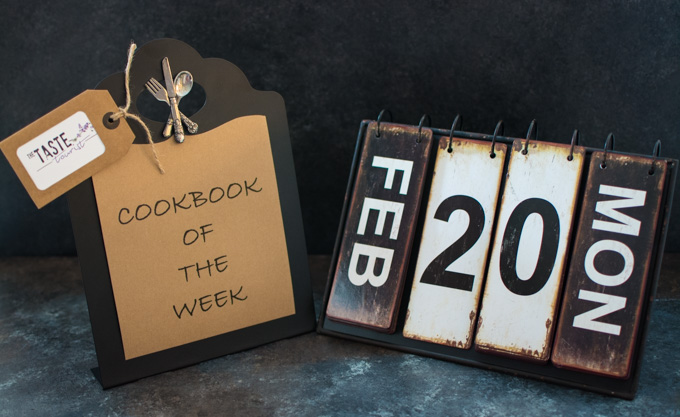 Challenges
I love a new challenge…and cooking provides plenty of them. Learning to carefully pipe buttercream frosting onto a layer cake, roasting a chicken until it's perfectly tender and moist, neatly slicing a pile of basil into a fine julienne. There's always something new to learn, and that's one of the many reasons I'm drawn to this culinary adventure.
But I have to admit, one of my biggest challenges in the kitchen, is also one of the more basic ones – cooking dinner on weeknights.
I absolutely love cooking – and I spend a good part of my weekends and vacation time immersed in a sea of recipes.  But weeknights are a different story.  After a long day working, writing fiction in the early hours of the morning and then teaching for a full day, there are many nights when I just want to grab a quick bite – a bowl of bran cereal, a piece of peanut butter toast, a pre-packaged salad – and relax.
While there's absolutely nothing wrong with that, lately I've found myself dissatisfied with this weeknight routine, and wanting to get back to what I grew up with – home-cooked dinners.
I have a busy weekend coming up, with absolutely no time to cook, so this week seemed like the perfect opportunity to take on this new challenge. I dove into my cookbook collection looking for a book that would fit the occasion. One with delicious and healthy dinner recipes that could be made on a busy weeknight.
And I found the perfect one.
This week's Cookbook of the Week is Weeknight Wonders by Ellie Krieger.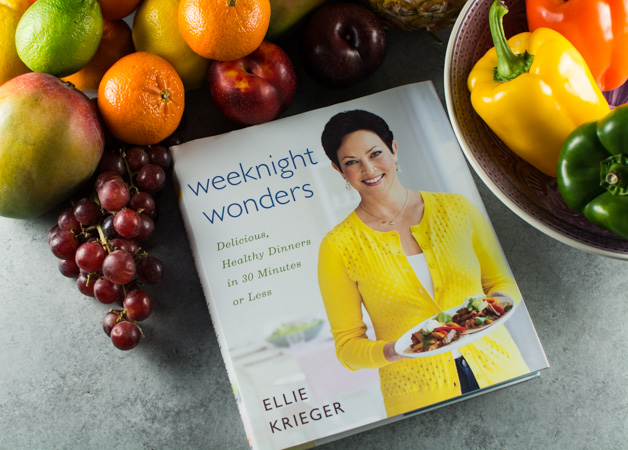 Ellie, one of my favorite culinary professionals, has an impressive resume, including six cookbooks and a current role as executive producer and host of the PBS television series Ellie's Real Good Food. A registered dietitian with a master's degree in nutrition, she is extremely skilled at creating healthy recipes that are also flavorful and easy to make for the home cook.
This is my first experience with Weeknight Wonders, but I've previously cooked from her James Beard Foundation and AICP award winning cookbook, The Food You Crave. Her recipes have consistently been excellent – curried butternut squash soup, teriyaki pork tenderloin with honey-roasted sweet potatoes, blueberry blast smoothie, and crispy chicken fingers with honey-mustard sauce…just a few of my favorites.
What I most enjoy about her recipes and food, is that while they're healthy and packed with nutritional information and advice, they also taste fabulous. In the introduction to her cookbook, Ellie writes, "As a passionate food lover, taste is number one for me, and each of these dishes is full-out delicious." I also like how she believes in balance –  that "no food is ever  off-limits." As she states, "By focusing on fresh, minimally processed ingredients, following my tried and true 'Usually-Sometimes-Rarely' food philosophy, and using a few smart shortcuts, the recipes here hit that sweet spot where taste and health meet, and quickly, so they are doable on the busiest weekdays."
I couldn't agree more, and I can't wait to try out Weeknight Wonders. With its promise of "150 recipes that take 30 minutes or less to get on the table," it was tough to pick just five…but I decided on: pork tenderloin with sweet-and-sour red cabbage and dried cherries; shrimp with spinach, garlic, and smoked paprika; honey-mustard glazed salmon with endive and green apple; sesame quinoa; and two-minute mango-coconut sorbet.
I have a busy schedule in the week ahead, but I'm looking forward to the challenge!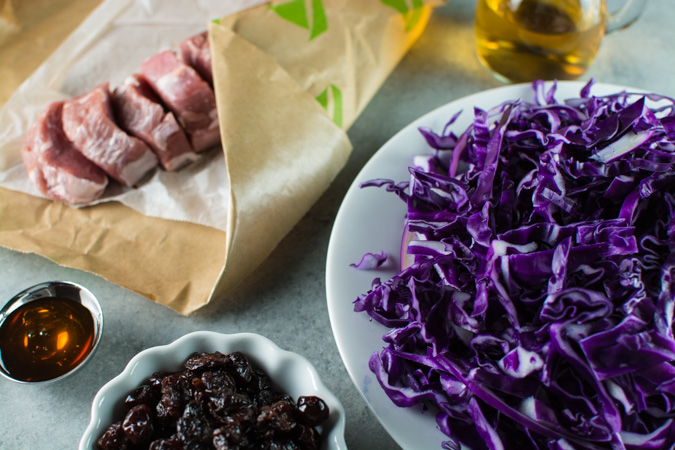 Dinner
I was fortunate to grow up with a family that ate together almost every night. My mom worked hard to provide us with sit-down dinners that inevitably included some variation of a salad, meat, and vegetable. It was more than just her "responsibility" to us – it was also her "gift" to us.
She was always looking for new ideas…marking pages of cooking magazines, cutting out recipes to try – wanting to make dinner special. While she wasn't the "fanciest" of cooks, and actually preferred baking to cooking, I loved sitting down to those family meals. Her tacos. Her French dip sandwiches. Her herb-baked chicken. Delicious! And then there were the dinners I wouldn't eat, a few involving epic battles where I had to try "just a few bites" before I could be excused from the table – spaghetti and tater tot mushroom casserole come to mind. From my adult perspective, I'm grateful for those moments as well…for having a mom who cared.
But what I most remember is how much I enjoyed spending time together – a time to relax and to recharge. It was the consistency, the reliability, and most of all the connection. Chef Paul Prudhomme's words echo how I feel about family dinners. "It's the sense of what family is at the dinner table. It was the joy of knowing mother was in the kitchen making our favorite dish. I wish more people would do this and recall the joy of life."
It's difficult today –  we live in a a busy world filled with long working hours and tightly packed schedules – but what I  know to be absolutely true,  is that taking the time to prepare a healthy home-cooked dinner, even if it's just for yourself, makes your life a little bit better.
And as Julia Child said, "You don't have to cook fancy or complicated masterpieces – just good food from fresh ingredients."
I'm excited to get started on this new challenge, and as I pulled out the ingredients for tonight's dinner – pork tenderloin with sweet-and-sour red cabbage and cherries, I felt thankful for the power, the beauty, and the gift of a weeknight meal.