Northwest Winters
Our winters here in the Seattle area can be a bit bleak….prone to a steady drizzle of rain and gray skies. But despite their fairly dreary reputation, I have to admit that I love our Northwest winters.
For me, it's a season of rest, rejuvenation, and reflection.
It's the opportunity to hibernate – to throw on a pair of sweats, snuggle in, slow down, and rest. It's the opportunity to enjoy the comforts of home – to turn on the fireplace on a stormy day, light a candle, and settle into the couch with a good book. It's the opportunity to spend time in the kitchen – stirring a simmering pot of stew, kneading dough for cinnamon rolls, roasting a pan of winter vegetables.
But I have to admit, there's one thing that I love the most about winter – the one feature that really makes or breaks it – snow.
We woke up to a surprise today, on this first week of March – to a fresh blanket of snow coating the Northwest. It was a magical drive to work, with thick flakes falling onto my windshield, rapidly transforming the streets from the mundane to the magical. I spent the day at school, along with my students, trying so hard to focus, yet looking out the window every few minutes …watching the flakes fall throughout the day, hoping they wouldn't disappear. And the day didn't disappoint.
This winter has been a gift, and we've had more than our share of snow. And when the snow comes out, there's one thing that I always want to do – bake.
This week's Cookbook of the Week is Joy the Baker Cookbook.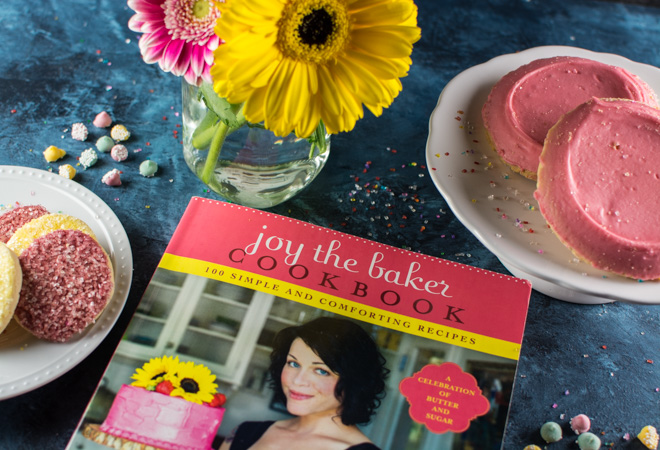 Joy Wilson is one of my favorite food bloggers, and this cookbook, her first of three, is simply fabulous. It's been on my "must try list" for a while, and I have to admit that I've spent a good amount of time thumbing through it, pouring over the creative and alluring treats pictured within. There's a brightness, both to Joy and to her cookbook, that I'm drawn to, and I love her unconventional twists on conventional recipes.
But that's not the only reason that I chose this cookbook. I chose it because it reminds me so much of my mom.
If there's anyone who ever truly loved snow, it was my mom. And every time it snows, I'm flooded with memories of her.
Remembering her child-like delight as the first flakes would appear. Listening to her singing "Suzy Snowflake" and dancing through the house. Bundling us up in our bright snowsuits and heading outside to make snow angels in our back yard.
And always, when it snowed, she'd end up in the kitchen – making delicious treats to share with us.
Joy Wilson's spirit, her voice, and her style – warm, unpretentious, generous – remind me so much of my mom, and I felt this week's selection was the perfect fit, not only because of the snow, but also in honor of the woman who first taught me to bake.
I spent this beautiful snowy Monday evening pouring through the pages of Joy the Baker Cookbook, and thinking of my mom – remembering her favorites, remembering the recipes that we made together.
Not a day goes by that I don't miss her, but I'm also grateful for the memories and for those moments that still connect me to her.
Baking is one of those times, and this week I selected five recipes that I know she would have loved… vanilla bean snickerdoodles, browned butter crispy rice treats, chocolate fudge brownies with chocolate buttercream frosting, everything caramel corn, and browned butter blueberry muffins.
Baking with Mom 
My mom had a sweet tooth, and she passed her love of baking on to me.
Some of my favorite childhood memories were spent in the kitchen with her. Together we made snickerdoodles, Texas chocolate cake, peanut butter cookies, blueberry muffins, lemon bars, and countless other baked goods.  It wasn't just the food itself that I loved. It was the joy of spending time together and the lessons she taught by example – her patience, her wisdom, her love.
This week, I pulled out the faded green fabric jewelry box that I inherited upon her passing. It's filled with special mementos and memories…her glasses, a business card from her floral design business, her high school graduation picture, special letters and cards that she saved, favorite Bible verses, her lipstick holder, the final journal entries that she wrote.
Small but significant pieces of a beautiful life.
I also pulled out her recipe collection, one of my most treasured possessions. Tonight, as I prepared to write this post, I found myself lost in a deluge of memories as I sat on my couch remembering and reflecting.
Looking at the recipes, neatly written in her own hand and smudged with the remnants of those childhood treats, each recipe telling a different story. Her recipe box and accordion file stuffed full of family favorites, shared recipes, and new ideas to try. The cookbook that she wrote for my sister and I as we embarked upon adulthood, ripe with the dreams and hopes she had for her daughters. Every recipe, every piece a vivid reminder of her.
And even as the tears flowed, I felt so incredibly blessed to have had her as my mother.
My mom had a huge heart, and of the many gifts she shared with us, it's her love that stands out the most. She expressed her love in so many ways, including the time she spent baking for and with her family.
In the foreword to this week's cookbook, Joy Wilson writes, "I encourage you to celebrate life and love. They're both made better with sugar, butter, and cream."
I have no doubt that my mom would agree.